Small Horse Magazine Scores Big (Brown) Scoop

But photos posted online fail to generate server-crashing traffic.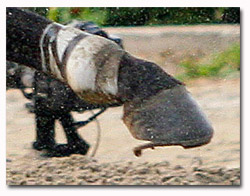 When Big Brown, the prohibitive favorite to win the Belmont Stakes and, in turn, the Triple Crown, finished dead last a couple of weeks ago, it left many people wondering why. Or, how.
Well, it appears that a magazine called Blood-Horse—virtually unknown outside of horseracing circles—uncovered a clue that Sports Illustrated and ESPN and dozens of newspapers couldn't: that is, Big Brown's loose boot. The magazine published a photograph in its June 21 issue which shows what appears to be a loose shoe (honestly, who here knew horses wore shoes?) on its right hind hoof.
"This is clearly the first hard evidence we've had of anything," Michael Iavarone, one of the horse's owners, told USA Today.
The photo, taken by a freelancer, has since been picked up all over the world, with most media outlets giving the 22,000-circulation weekly the credit. (Check the Google News results for "blood horse magazine.")
Undoubtedly a great scoop. But the magazine also missed a big traffic opportunity: it failed to put the photo online before the print magazine was published. (Editor Dan Liebman says they go to press on Monday night with a Saturday cover date.)
"We had calls (or e-mails) that day from Newsday, USA Today, Dallas Morning News, Good Morning America, Inside Edition—all wanting the contact info for the photographer," Liebman wrote in an e-mail.
When you publish a weekly–one that may or may not be on newsstands—and stumble into a scoop like this, no one's going to be galloping (sorry) to Barnes & Noble to buy it. And no one's forwarding a link from your site if the photo's not there.
And while the magazine's Web site saw a spike in traffic after the photos were published late Sunday night—50,000 page views on Monday, 70,000 on Tuesday, according to the magazine—was more than its average (roughly 30,000 page views) it wasn't the kind of server-crashing crush that international stories tend to generate.
Imagine, for a second, if the photos were online when they came in, or, at the very least, on Monday, when the issue was put to bed.
It seems like Blood-Horse wasn't quite prepared for—and therefore ill-positioned to capitalize on—the buzz.
"We anticipated interest in the photo," Liebman wrote. "But the photo became one of those stories that took on a life of its own."
Meet the Author
---