Deal value more than doubled over last year's first half thanks to a few large acquisitions, but media M&A has continued to stay quiet, according to a recent report from the Jordan, Edmiston Group (JEGI).
Overall value spiked 132 percent to $64 million, for the 10 media, information, marketing and tech markets JEGI measures, while volume rose 6 percent with 752 deals.
Large transactions drove that significant increase in value, the report notes. Just 24 deals-3 percent of the total volume-accounted for 71 percent of aggregate value with Facebook's February acquisition of WhatsApp for $19 billion leading the way.
"The continuing trend of small deals dominating the M&A market raises questions about the level of confidence that entrepreneurs, corporations and investors have in the current recovery," the report reads. "Corporations and investors are vigorously exploring acquisitions opportunities but remain cautious to 'pull the trigger' on larger transactions as they wait for a clearer picture of the economy's direction."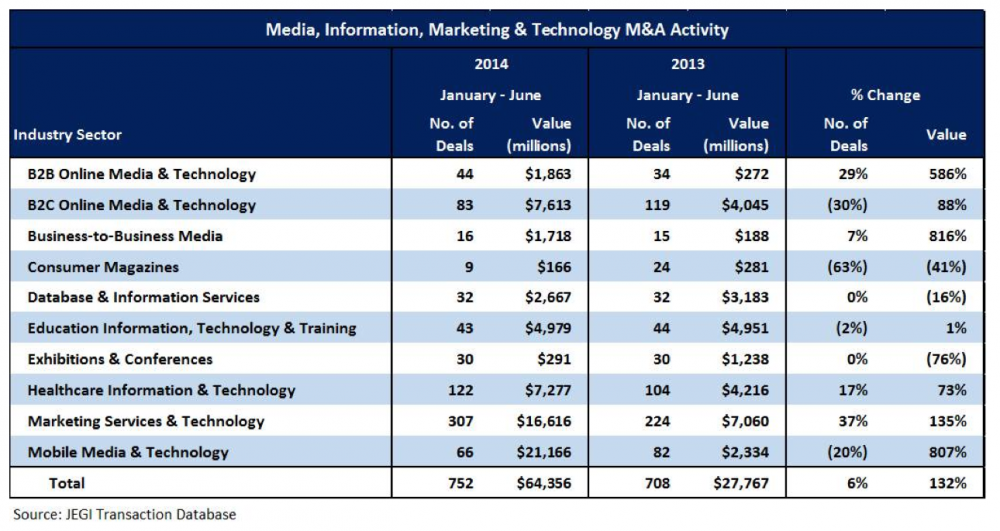 By sector, b-to-b media was illustrative of the larger pattern. The segment stayed flat in deal volume (17), but rose more than 800 percent in value ($1.7 billion), largely on the basis of two sizable purchases-Apax Partners' acquisition of Trader Media for $979 million and ALM's sale to Wasserstein & Co. for $417 million.
Meanwhile, consumer magazines fell in both number of deals (9) and dollar amounts ($166 million). Notable deals included Future's sale of sports and crafts titles to BBC, and Tinicum's acquisition of F+W Media.
Some factors point to an acceleration of M&A activity, but JEGI isn't optimistic in the near future.
"While lackluster business confidence continues, we expect middle-market M&A activity to remain slow through the next quarter and small deals to continue leading the market," the report reads.