Slate Founding Editor Tapped by Atlantic to Head Unnamed Digital Property

Michael Kinsley also to write media column for print edition.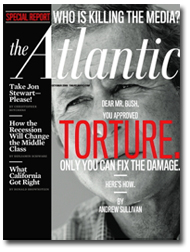 The Atlantic has named Slate.com founding editor Michael Kinsley editor-in-chief of a new digital media property the publisher expects to launch in 2010. His appointment is effective September 21.
An Atlantic spokesperson declined to divulge any details surrounding the digital initiative the publisher is quietly developing, other than to say it will be "a separate property under the Atlantic Consumer Media umbrella."
In addition to his digital duties, Kinsley will write a regular column on media for the print edition of the Atlantic. Most recently, Kinsley served as a columnist for the Washington Post. He also has served as editor of The New Republic and Harper's.
The Atlantic also is getting ready to launch the Atlantic Wire, an opinion news aggregator slated to go live later this month. Kinsley will not be part of the team that manages the Wire, the spokesperson said.
Meet the Author
---