SLAM Extends Its Brand With Launch of TDdaily.com and TD Magazine

Nike signed on as exclusive launch sponsor for the new football publication.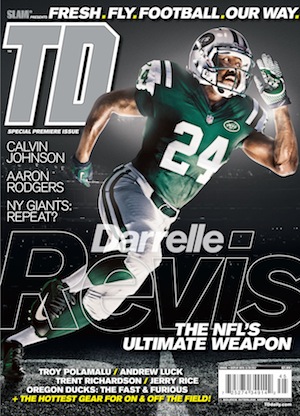 This week Source Interlink Media's SLAM magazine introduced a new outlet for football fans to get the latest football news. SLAM is a print and online publication for basketball fans. The new product will be TDdaily.com, a site for amateur and professional football news, on and off the field gear reviews and player insights. Additionally, to coincide with the launch, SLAM will roll out an introductory print issue–TD magazine.

SLAM's Editor-in-chief Ben Osborne suggests that football fits in with the publication's editorial voice. According to Osborne, "[TD] was conceived more as a website. We noticed that there really wasn't much out there; so we thought, why don't we start our own? We shopped it around to advertisers and got a sponsorship from Nike."
Nike is serving as the exclusive launch sponsor for TDdaily.com and TD magazine. While Nike's involvement in content is very limited, Osborne stresses that their presence is crucial in wake of its recent contract to provide uniforms and gear to teams and players in the National Football League (NFL).  
"They [Nike] are the biggest story of the season, in that the biggest athletic company in the world is now sponsoring the NFL. The look is really sharp and because there is a single sponsor, there are limited ads."

TD magazine has promised 200k issues to be distributed everywhere SLAM is sold nation-wide. And soon the Apple Newsstand will also make the issue available for interested readers.
SLAM is working on a tablet app, but there are no immediate plans to integrate TD into that medium. That said, Osborne states that if the SLAM app is received well by readers than it will serve as a "nice template [for TD]."
 
Special newsstand only issues have been a staple for SLAM and "TD follows that distribution model" according to Osborne. The magazine has gained notoriety with its KICKS special issues, which are targeted towards sneaker fashion enthusiasts.  "Our readers are young consumers of products and care about products" Osborne says, and suggests that special issues complement their content well.
Osborne suggests that the preliminary response has been favorable saying that a magazine can "stand out by looking good." He also says that "what we have going for us is the massive popularity of the sport" and hopes that "there is a demand for a new voice. "


SLAM has added both a full and part-time editor to its staff to manage daily content for TDdaily.com. And Osborne says that "for now, its about good content and reaching people."
Meet the Author
---