Skram Media Buys Mountain Gazette

An outdoor sports enthusiast publisher continues growth via acquisition.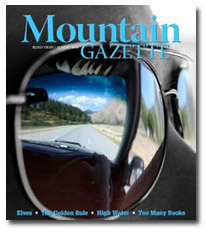 Skram Media, enthusiast publisher of Urban Climber and Climbing, which it bought from Primedia in late 2006, has acquired its second title in Mountain Gazette, a 42-year-old mountain sports and culture publication. Along with the all-stock purchase, Felix Magowan, former CEO of Inside Communications and a founding partner of GSM Media, which purchased Mountain Gazette in 2006, will join Skram Media's board of directors.
For Skram founder Mark Crowther, the search for another title began last year after realizing the infrastructure that came with the purchase of Climbing from Primedia could support more products. "We've owned Climbing for 18 months, and after about six months of owning that magazine we realized we were carrying an infrastructure that could be scaled over more than just two titles," he told FOLIO:. "I've been looking to add magazines to what we have. So there was outreach by us into the marketplace to try and find titles."
Magowan surfaced with the Mountain Gazette offer in March this year and at the time Crowther had been in discussions with a pair of private equity firms that were getting increasingly cold feet in the face of a difficult lending market. "When I filtered through targets they would want to back, they were looking for million-dollar plus, positive EBITDA titles. But the markets got more nervous day-by-day, week-by-week," said Crowther.
Anatomy of a Small Magazine Deal
At the same time, Crowther was running into a dearth of "capitulating sellers" in the independent, consumer-enthusiast marketplace–something the PE firms also favored. "What I was finding when I was approaching these independently-owned, enthusiast-run magazines was quite different from the experience that I had with Primedia and Climbing. They just wanted to get rid of it as soon as possible. [Enthusiast publishers] can live off of a can of tuna, and they're quite happy doing that."
"You're basically a shrink trying to get these [small enthusiast] deals done," added Magowan, who had purchased the break-even, 135,000-circ Mountain Gazette in 2006 with the full intention of selling it later. "Most of these sports properties are founded by someone who put their whole savings into the title and you've got to convince them of how virtuous you are. It's like adopting a kid."
Through further discussions the pair realized the deal could get done "through a merger of assets" and Magowan's Board position. Essentially, the deal is getting done through a release of Skram Media LLC common stock to the existing shareholders of Mountain Gazette. "For me it was good because I didn't have to give up any cash and I didn't have to bring in any professional money with aggressive terms," Crowther said.
Crowther expects to continue to build up his holdings as a growing mountain sports media company. "With the addition of Climbing and now branching out to a more generally-defined mountain-based title, the project is not complete yet. It's an astute move for us. When we bought Climbing we quadrupled the size of the company and I never want to do that again on my own. This is a nice little baby step compared to what we did before, and it keeps us in the game where we could pick up some other titles I've been looking at once the market conditions improve," Crowther said.
Meet the Author
---