Skift

A digital-only launch focused on content, ad sales and data subs.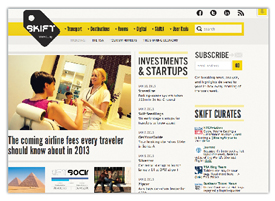 In mid-2012, Rafat Ali, the founder of PaidContent.org, launched an online-only media and data company called Skift that targets the business travel market.
By its July launch, Skift had raised $500,000 in angel funding, which was used to scale the operation going forward. Ali had self-funded the project to that point. There are a dozen investors including Chris Ahern, Gordon Crovitz, Alan Meckler, Luke Beatty, Tom Glocer and Vishal Gondal.
Ali says the travel vertical is ripe for disruption. "When I started looking at doing something in this industry I discovered the sources are very old-school. They are also very siloed in their sub-sectors. No one is bringing it all together in a Web-native, social-friendly fashion of the kind that exists in the media, tech or finance markets."
Phase one, he told FOLIO: when he launched, was to create "a homepage for the industry," which was largely fed by aggregation software PublishThis.
Since then, Ali has shifted Skift to a combination of curated content and original content. The approach strikes a balance between cheaper content development and the still-critical original reporting. Too much aggregated content and the site gets flagged and penalized by Google's search algorithm, but all-original reporting requires an up-front investment that's tough for a brand-new digital operation.
The plan is to create a b-to-b destination site for the business travel market, with the content supported by advertising—endemic trade advertisers as well as consumer-oriented advertisers looking for an audience of business travelers. But the site will not solely rely on ad revenue—or content.
Skift will also have a data services operation supported by a variety of subscription models. The data will initially be pulled in from publicly available sources, such as tourism, airport and arrival-departure data at the global and local levels.
As the company grows, proprietary data will be added to the mix. This, says Ali, will be Skift's core value proposition. Advertising, he says, will continue to be a  major revenue contributor, but as of now, Skift's scale prevents rapid growth via an ad-only model—size matters. Data sales and subscriptions, no matter how large the site scales, will continue to be the primary brand-builder.
"The better way to build a media company is not through content, but services. The best way to scale is to figure out the data services that the industry and people will pay for."
PROGRESS SO FAR…
Launched last year on a $500,000 initial funding round, Skift has since expanded its content development from an aggregation model to more original reporting. Data services are at the core of its business.
Meet the Author
---