Skift Nabs Another $1.1 Million in Seed Funding

Company staffs up as it shifts gears toward generating revenues.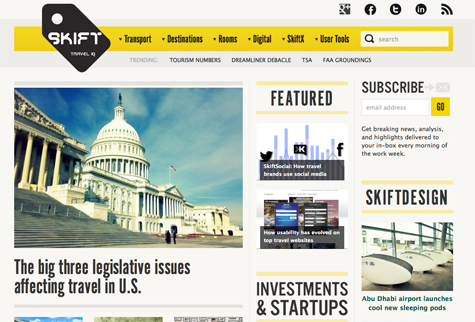 Skift, a b-to-b and consumer travel information and data services company, has secured another $1.1 million in seed capital from several venture firms and a new group of angel investors.
The funds will go toward doubling staff size from 5 to 10 (a new head of sales, two more developers, a social media manager and another reporter) and dedicated office space, says founder and CEO Rafat Ali.
This round, which brings the total raised to $1.5 million, was led by Lerer Ventures, along with another four firms and eight angel investors, including Jason Clacanis, Michael Cunniff and Martin Nisenholtz.
Ali adds that the company is moving into its revenue stage with the first of two premium subscription services launching next month.
The site expects to attract about 500,000 uniques in May, with about 25 percent arriving via mobile. Helping that traffic flow are licensing and distribution partnerships with CNNTravel.com, NBCNews.com, LinkedIn, Advertising Age, Flipboard and Quartz.
Meet the Author
---