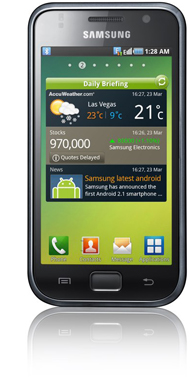 Hearst-incubated Skiff has partnered with Samsung to provide e-reading services and content to the consumer electronics company's smart phones.
Skiff CEO Gil Fuchsberg made the announcement Tuesday during the International CTIA Wireless event held in Las Vegas.
Fuchsberg described Skiff's relationship to Samsung as a "preferred e-reading service partner" and offered some insight into the company's commitment to the smartphone platform and some of the content it will have available when the service launches "later this year."
Samsung's new Galaxy S smartphone [pictured], which has a four-inch display, was featured in Fuchsberg's remarks, but he also noted Skiff content and services will be available "across a range of Samsung devices."
Content from The New York Times, Financial Times, Forbes, Esquire, Popular Mechanics, Random House and Simon & Schuster will be available at launch, said Fuchsberg.
Skiff has been working with device manufacturers in an effort to have its service embedded in the products, with access to a Skiff storefront—also currently under construction—available at time of purchase. At the same time, Skiff has created its own branded e-reader device, which the company debuted at the Consumer Electronics Show in January.
Photo via Engadget