For any publisher, online and mobile are rapidly gaining on their print magazine counterparts in terms of significance. The Internet already accounts for 41 percent of people's media consumption, according to the Online Publishers Association (OPA), and that will only continue to grow. And advertising has become a big part of the overall online experience.
The important factors in today's ad realm are context—where an ad sits within the content layout—size and placement. While banner ads are widely used and still considered effective, ads that incorporate interactivity and capture the experience of the Internet seem to perform best.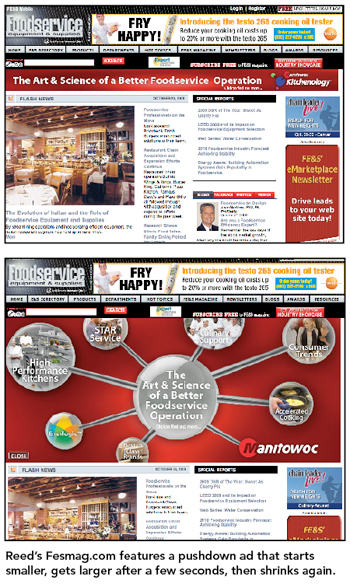 "Ad units with deep levels of engagement work well," says Matthew Yorke, president of IDG Strategic Marketing Services. "This means that I can take several actions within the ad units before being forced off the publisher site to the advertiser site."
For example, HBO had a successful online ad campaign promoting its "Big Love" drama series which ran on Reed Business Information's sites. It used flip art where the user would have to click on something to figure out who the three different characters of the show were. "It used online as a more interactive opportunity as opposed to a flat experience," says Karthik Krishnan, vice president of interactive media and sales management for Reed. "You don't want to just push information, but involve the user. It gives insight into how the person is thinking." Krishnan sees that as an area where most advertisers are not effectively using the Internet today.
Video is also becoming an important online advertising tool. For example, the U.K. unit of Reed did a campaign for European carmaker Skoda for its new Octavia model. The ad featured a 30-second video online that talked about the Skoda Octavia. When users finished watching the ad, people could sign up for a test drive. Krishnan says about 125 people signed up for the test drive and out of that group, about 25 purchased the car.
Bigger is Better
No matter what type of online ad, today's mantra has become "bigger is better," according to research by the OPA. In June, the organization launched three new ad formats that are larger than typical online ads. They include: the Pushdown ad unit: 970 pixels wide by 418 pixels tall, it opens to display the ad and then after seven seconds, it rolls up to 970 pixels wide x 66 tall; the Fixed Panel: 336 pixels wide by 700 tall, it remains constant as user scrolls to top and bottom of page and the XXL Box: 468 pixels wide by 648 pixels tall, it opens for seven seconds to 936 pixels wide by 648 tall.
"Based on these dimensions, these ads are twice as big as ads usually found on the Web," Krishnan says. Reed implemented the Pushdown ad model with Verizon. The publisher may consider trying the other two new models when it revamps some of its Web sites, Krishnan says.
One area that isn't performing very well are display ads, according to Krishnan. "Overall, display advertising is the weakest link in advertising," he says, noting that it's where the b-to-b sector spends the maximum amount of ad money. "Display advertising has a significant role to play in a marketer's arsenal, and we can't discount that. But the thing for us publishers is to figure out the best way to make it work. What tactics are we using today? We're switching to larger ads and psycho-graphic profile also enhances the value of these opportunities."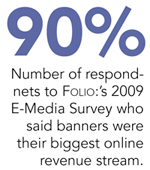 Platform-Specific Ads
Ads should be tailored to the media platform for optimal performance. In most cases, mobile devices only show one ad at a time. The large-image banner—216 x 36 pixels—works well because it flushes out the whole page and occupies the entire width on a Blackberry screen, for example, which is great for branding, Krishnan says. But don't expect people to click on ads on a mobile device, he warns.
Mobile advertising can also incorporate location-based functionality. Publishers can use SMS or text messaging as marketing tools as well, Yorke says.
As for digital magazines, the advertising is typically a scanned print ad and not a specific ad unit, Krishnan says. He notes that full-page ads and spreads perform better in digital mags.
Ad formats differ depending on the campaign. Kevin Gentzel, president and group publisher of Forbes Media, breaks advertising into two different sectors: "demand creation" and "demand fulfillment."
Demand creation seeks to increase awareness, preference and purchase intent for brands, Gentzel says. "These campaigns require a balance of reach and frequency against an audience target, enhanced by thematically appropriate and contextually relevant content. Demand fulfillment is all about direct response where context is less important and lower frequency is better."
The majority of all digital advertising is now focused on transactional-based performance metrics, whether it be clicks, leads or direct sales, Gentzel says. "Direct response advertising on the Web has been, as we know, overly focused on the 'click' metric, despite the fact that research shows it to be of dubious value. In fact, recent research from comScore and Starcom point to the fact that not only are 'click' metrics down by 30 percent over the past year, but that just 8 percent of the Internet population accounts for 85 percent of all clicks."
Krishnan uses different metrics for different objectives. For branding campaigns, reach is the most important factor because you're going after a broad audience. With a transaction campaign—a traffic-driver—click-throughs are important, he says. Creative will automatically change to have a strong call-to-action component. With lead-gen, click-to-conversion is most important.
Lead generation works very well with text links and sponsored posts and can also work well as part of a bigger rich media ad unit, such as an expandable interactive marketing unit (IMU), Yorke says. Banner performance is steady and strong creative and video can positively impact click-through rates, he says.
The one area where IDG is seeing high engagement is around social ads, also known as "earned media," whereby a user can comment within an ad unit and then share it with their social graph. In May, IDG launched IDG Amplify with a set of ad products that offer just this. "It plays to the age-old desire to share but also that we trust information from friends/colleagues more than from advertisers," Yorke says.  "We're seeing high engagement around social ads—45 second dwell/interaction time with an ad unit before the click."
The cost of different online ads varies based on the brand, purpose and the amount of bells and whistles. For retail, CPMs average about $35 for Reed, but if the ad targets a high-end audience, say the CEO of Comcast, the rates can run as high as $100 CPM. Rich media requires a 20 percent premium, as does any kind of targeting, from geo-targeting to content targeting.
For Forbes, CPMs range from $8 for its owned and operated site network ads to $100 for its "welcome ad," Gentzel says. The "welcome ad" is a full-screen ad coupled with Forbes' thought-of-the-day content served once to every visitor. That particular ad happens to have extraordinarily high click-through rates, he adds.