Signs of Life for Print?

Don't expect any huge rebound but some publishers think the worst is over.
Only 18 consumer magazines posted ad page growth while total ad pages fell 25.6 percent in 2009, according to Publishers Information Bureau.
On the b-to-b side, things weren't any better, with ad pages falling 29 percent across 22 categories (all of which were down) according to Business Information Network. TechTarget stopped publishing print magazines in December 2008 and now large publishers such as Reed Business Information and Nielsen Business Media appear to be trying to exit print all-together.  
And while global ad spending is expected to grow 0.9 percent this year, global ad spending on magazines in 2010 is expected to fall 4.5 percent $43.1 billion, according to media buying firm Zenith Optimedia.
Spring Thaw?
However, some publishers think 2010 will be better (even if that's only compared to 2009). Many magazines don't get a good sense of what the year will be like until the March issue, when their advertisers really start spending. Glamour was flat in January and February but expected to be up 6 percent to 7 percent in March, Conde Nast Publications publishing director Bill Wackerman told the Wall Street Journal.
It's not just larger titles seeing a jump. Active Interest Media's American Cowboy reported a 20 percent increase in ad revenue for its February/March issue. Publisher Bill Garrels credits the  growth to several factors, including a pre-Christmas tour to more than 60 advertisers, a magazine redesign (previewed for advertisers via digital edition) and a Web site redesign which in turn is driving interest in print. "That's actually led advertisers to consider us the tech-savvy guys on the block," says Garrels.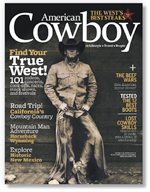 AmericanCowboy.com is enticing readers to blog by offering a points programs with rewards such as T-shirts and the blogger with the most points at the end of the year wins tickets to the National Finals Rodeo in December.
American Cowboy is also offering aggressive packages across print, online and events, with prices ranging from $7,500 to $35,000. "We're moving away from onesy and twosy incentives and taking a look at what category they're in," says Garrels. "For something like boot manufacturers do they need education about the product or promotion for retail distribution?"
Not Giving an Inch
Ted Bahr, co-founder of tech publisher BZ Media, says print still has a viable role in b-to-b. "We have a responsibility to sell the benefits of print as a medium as opposed to just selling against competitive titles," Bahr wrote in a recent blog on FOLIOMAG.com. "As much of the industry seems to be afraid of this, I think there is also an opportunity here to take significant market share. Many people do not read magazines but trade magazines rarely ever reached more than 10 percent of the market anyway. The remaining publications need to be more relevant, more engaging, more targeted at a reading audience like middle managers who don't necessarily know what solutions they are looking for."
SIDEBAR
BZ Media co-founder Ted Bahr says there are four reasons for "not giving an inch" when it comes to supporting your print titles:
1. By being the only game in town, you can reduce your costs appropriately to be in line with what is now expected for print advertising.
2. By being the print survivor you probably have a stronger, more active and committed database to promote webinars and lead generation programs to.
3. As readers and advertisers scan the field, they see only us. We become a must-buy element simply by having survived.
4. Know that competitors will continue to shut down, leaving more opportunity—IF you sell print aggressively (yes, Mr. Advertiser, they went out of business, but here's why they did and why we are still relevant—in fact MORE relevant than before.
The kicker: BZ Media ended 2009 with print contracts up 32.6 percent over last year.
Meet the Author
---