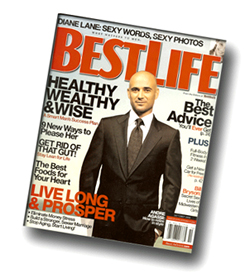 The magazine "could not reach our internal benchmarks."
"We cannot justify continued investment."
"We have concluded that this economic market will not support our business expectations."
Those were the respective reasons given when Rodale shuttered Best Life, Hallmark Cards killed Hallmark and Condé Nast folded Domino.
The commonality among these magazines—besides that they are no longer being published—is that they were some of the few titles to deliver seemingly solid performances in 2008. Best Life's ad pages increased 6.6 percent last year, according to the Publishers Information Bureau. Total circulation was up 6.1 percent, according FAS-FAX figures. Hallmark's ad pages were up 11 percent and total circ skyrocketed 27.2 percent. While ad pages ad pages fell 4.1 percent last year at Domino, total circ soared 54.6 percent.
It's no secret that 2008 was a brutal year in magazines. On the consumer side, ad pages dropped 11.7 percent in 2008 when compared to 2007, according to PIB. Of the more than 230 magazines tracked only 42—or about 18 percent—saw ad pages increase for the year.
So why are publishers walking away from titles that appear to be growing? "The problem is the publishing model," University of Mississippi professor Samir "Mr. Magazine" Husni told FOLIO: recently. "It's one that's served us well since World War II, when we switched from a circulation-driven publishing model to an advertising-driven model. That's when magazines got into the business of counting numbers, not finding customers that actually count. So, when the economy declines, and ad revenues disappear, magazines begin to show less 'real' growth."
Some publishers, however, say oversaturation is a key reason magazines are going out of business. "Most publishers have the same problems as car dealers or home builders—that is, they have too much inventory and not enough buyers," said Hanley Wood CEO Frank Anton. "There are too many magazines, too many Web sites, too many conferences—not enough advertising/marketing spend to support them. So just as stores close and auto dealerships disappear, media properties get shut down. It's not really about costs or expectations; it's about revenue, or lack thereof."
No Guarantees
Even after publishers make cutbacks and layoffs, there's no guarantee of survival.
"We did see some great growth in terms of circ and ad pages but the business still fell short of our plan," said Hallmark spokesperson Julie O'Dell. "We looked at a number of business models and options but were not able to put together the type of structure we needed. It was not an easy decision, but we have to focus our efforts on our other products."
"I don't think it's fair to say the print model is broken," said Dan Woods, associate publisher at O'Reilly Media's Make, which pulled the plug on the print edition of sister title Craft in February. "If you've been all but giving away the book and taking up a big chunk of your EBITDA and spending it on direct mail to build circ for advertisers, I can see that it's hard to find a way out. On the other hand, those magazines that are built around blended business models that balance circulation and ad revenue seem to have a far better chance of coming through the storm prepared for growth."
Husni said the combination of technological advancements (primarily online) coupled with the down economy has killed the ad-driven print model. "The engine is dead and we need to rebuild it."
In order for magazines to survive, he said, publishers need to stop "devaluing their content" by selling annual subscriptions for the price of—or less than—a single issue. One recent example of this is Condé Nast, which lowered Glamour's subscription price to $1.50 in recognition of the magazine's 70th anniversary. "How can we change an audience that is so used to getting their content virtually for free?"
Scott Crystal, president of TV Guide, agrees. "The obsession with advertising was supposed to continue to buoy losses elsewhere and we'd continue to plod forward and think everything was working. Well, it's not," Crystal said. "We need to charge consumers more for a better product and to take costs out of inflated rate bases due to advertising desires. We're all looking at our business models and cost structures, making tough decisions that perhaps should have been made a long time ago."