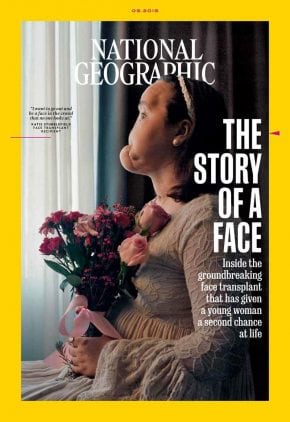 As skepticism rises around media accuracy and bias—and chants of "fake news" continue to resonate in some quarters—U.S. readers are gravitating toward the fact-based approaches of major science media brands.
Since first appearing online in August, National Geographic's cover story about about Katie Stubblefield, the 21-year-old Cleveland woman who received a historic face transplant, "is busting all records for us" editor-in-chief Susan Goldberg tells Folio:. The 9,000-word feature generated over 1.2 million unique visitors in its first two weeks alone, and its supporting features on YouTube and Instagram were among the brand's strongest performers for the year.
"Even I have been surprised at the level of response to this story," Goldberg says.
And NatGeo is not the only big hitmaker this year among nature and science publications. Scientific American has been seeing "growth across the board," says managing editor Curtis Brainard. Last October's "The Science of Gun Violence" broke through into mainstream notice with its fact-based approach that showed how "more guns mean more violence and more crime," Brainard explains.
Meanwhile, "Audience growth on Smithsonian.com has been phenomenal, more than 20 percent year-over-year for the past four years," says Bill Allman, chief digital officer at Smithsonian. And science content in particular is the key driver, with popular stories like "Dads Pass On More Than Genetics in Their Sperm" and profiles of pioneering women scientists from throughout history.
Post-truth politics may be thriving in Washington, D.C., but many Americans remain attracted to fact-based media. A 2017 Pew Research survey around science news indicates that 36 percent of Americans get science news at least a few times a week. And while only 28 percent of those readers feel that general news outlets gets their facts right most of the time, 47 percent feel that science magazines and sites are mostly accurate. That's relatively high praise in an era of shaken institutional faith.
Putting a Face to Science
But as science content is made available to larger audiences through digital media, the content and packaging have themselves evolved to make these topics even more accessible and broadly appealing.
"They are stories about people but also about science," Goldberg says of NatGeo's recent big hits around topics like the war on science, the science of addiction, or DNA manipulation. The brand's take on climate change focused on how it is impacting wildlife and land. Its powerful (and much-discussed) gender issue last year focused both on how science was showing a greater fluidity in gender than we once supposed, as well as how adolescents around the globe were experiencing gender definition.
"The key for us is making these science stories relatable and real, with great characters and content that can inspire," adds Goldberg.
In Scientific American's study of gun violence, "We could have done a typical data [and] research-driven article," says Brainard. "But the title was 'Journey to Gunland,' and we sent reporters to Georgia, to some of the most heavily armed counties in the country," he says.
Likewise, SciAm's take on the reemergence of long-suppressed infectious diseases brought their reporters to impacted communities in Detroit and New York. Increasingly, their approach to science stories involves "on-the-ground reporting—very narratively driven," he says. "We are trying to hit home with some of this stuff."
Hitting home with science content often means making it personal and intimately relevant. "We like to say we create science content for people who don't even know they like science content," says Smithsonian's Allman. More often than not, the hook is to orient the content towards "everyone's favorite subject: themselves," he adds.
And so, articles like "Why Do Mosquitos Bite Some People More Than Others?" and "A Hot Drink on a Hot Day Can Cool You Down" often float to the top of Smithsonian's popularity charts. But Smithsonian has also been successful not only in making science more personal, but in surfacing the personal stories from the scientific community.
"We like to tell the story of scientists as much as the science itself, to show the human endeavor behind the discoveries," Allman says.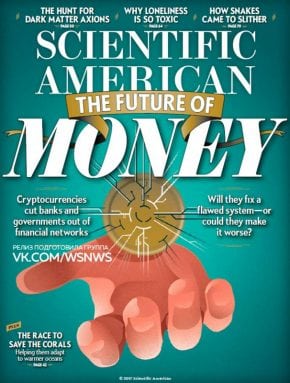 A New Audience of Nerds
By taking advantage of digital channels like social, email, and search, science content has also embraced more popular and compelling formats. Smithsonian excels at highly shareable tugs on our curiosity that, in Allman's words, "add 'real science' perspective to pop culture," such as "When and How Wolves Really Became Dogs" or "Five Ways Real Science Would Make The New 'Jurassic World' So Much Better" as well as its one recurring list franchise "14 Fun Facts About…".
SciAm has been able to capitalize more aggressively on ancillary segments to broaden its base.
"We have known for a while that Scientific American is very popular with the business community and have been more thoughtful about how to serve them," says Brainard. A January cover story on cryptocurrency took a different format and tone. "We weren't the only ones covering that, but it was styled as the future of money rather than around the technology."
NatGeo's blockbuster face transplant cover story was really a multichannel epic that took new and different paths thanks to a new generation of digital platforms at the editors' disposal.
"From the beginning, we were creating platform-specific content," says Goldberg.
Patient Katie Stubblefield's path to a face transplant had begun with her attempt to take her own life at 18, an issue among her peers she hoped to highlight by going public with her story. And so on the younger-skewing Snapchat, NatGeo's focus was on the second most common cause of death among teens (after accidents)—suicide.
"If it were only in the magazine we probably wouldn't have done a teen suicide story," says Goldberg. But multichannel media has resulted in new opportunities for cross-pollination of single stories. "Real success for us is when you report once and then create these different kinds of content to reach people on the different channels."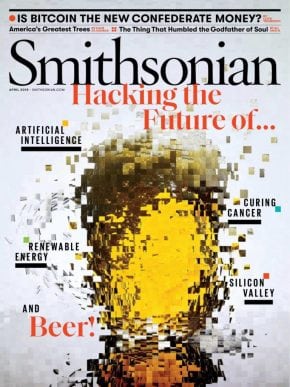 Leaning In, Doubling Down, Standing Firm
While many readers may view science-based outlets as firm anchors in an era of misinformation, these media brands are finding success by leaning into controversy rather than avoiding it. SciAm's approach to gun violence did not prevaricate for second. They brought data supporting the aforementioned thesis (more guns = more violence and more crime) to lobbyists and well-armed communities for their reaction. When one contrarian researcher challenged SciAm's data, the site published his arguments and their own rebuttal.
On politically charged topics like climate change, for instance, Smithsonian assumes "a leadership role," says Allman, in affirming the science that planetary warming is real, and a result of "greenhouse gases generated by human activities," according to the brand's official stance.
Goldberg admits that climate change is typically the topic that gets NatGeo the most pushback, and the brand heard objections when it featured a transgender girl on the cover of is gender issue. But she sees publications like NatGeo and their coverage now playing a deeper role in a culture where faith in impartiality—and even in fact—appears shaken.
The "correct response is to double down" on the reporting and the science, she says. "It is very important in an age where people are trying to undermine the credibility even of the most credible media. We make sure our content is on the side of science, on the side of the facts…and on the side of the planet."
[Editor's note: As for the "hot drink on a hot day" theory, we prefer Cliff Clavin's explanation.]