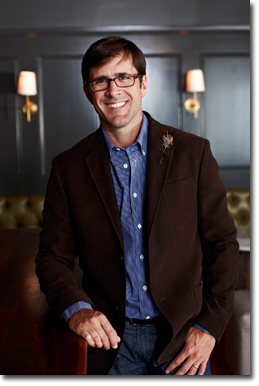 About three and a half years after what many viewed as a shocking move to join then-freshly launched Southern lifestyle magazine Garden & Gun from Field and Stream, editor-in-chief Sid Evans (pictured) is leaving G & G to join Time Inc.'s Lifestyle Group.
Slated to begin in mid-September, Evans will act as group editor for five Time Inc. brands: Cooking Light, Southern Living, Coastal Living, Sunset and This Old House. Evans says, "There are tremendous upsides to joining Time Inc.: upsides in print, upsides in digital, upsides in social media and other opportunities. It's too great of an opportunity to pass up."
David DiBenedetto, who also joined Garden & Gun around the time of its launch, moves from his previous role of executive editor to replace Evans as EIC. Evans says of the succession, "Dave is a hell of an editor and a great guy. I have no doubt he'll continue the success of G & G."
In working with recent hire Kim Alexander (who joined Garden & Gun from Time Inc. last month as digital media editor), a redesign for the website, as well investing in other ways to get content to readers between print issues, is next up for DiBenedetto.
"We've seen triple digit growth in the past year with our website," he says. "Comparing May 2010 to May 2011, unique users are up 231 percent and page views are up 505 percent."
Rebecca Darwin, founder of G & G and president/CEO of Indigo Acquisitions (who bought G & G from Evening Post Publishing Company in 2009), says that much of the groundwork for DiBenedetto is already in place, "We're going to let Dave settle into his new role and think about any little tweaks that he would make with the magazine. I doubt there will be many changes at all, as it's clicking along really well."
After a turbulent few years in which Garden & Gun was sold to Indigo and skipped an issue in order "to help shore up business", the publication seems to be recovered. The upcoming October/November issue is double in size compared to the 2010 October/November issue in both advertising and page count.
According to Darwin, G & G will be announcing a rate base increase from 225,000 to 250,000 in the coming months.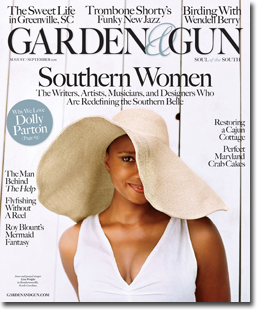 Garden & Gun, released bimonthly, produces twice weekly newsletters. There is also the G & G Club, a three tiered membership package that includes the basic Adventure Society group, the mid-range Sporting Society and premium Secret Society package.
Priced at $35, $100 and $500, each club offers a subscription and additional privileges, including an events calendar, discounts on merchandise and complimentary tote bags and hats. Members of the Sporting Society and Secret Society have a longleaf pine seedling planted in their honor; Secret Society members receive five free gift subscriptions and are invited to an annual SS Gathering, featuring Gardens & Gun staff and special guests.