SI Swimsuit iPhone App Tops Lifestyle Category

Bikinis, weed and booze hold top three spots.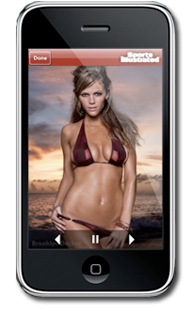 Time Inc., which publishes Sports Illustrated, home of the famed Swimsuit Issue juggernaut, announced today that one day after launch its "SI Swimsuit 2009" iPhone app is the number-one paid lifestyle application in Apple's App Store.
The app, developed by Acton, Massachusetts-based Azuki Systems, retails at $2.99 and is the first one by Sports Illustrated. It offers photos and video of 20 models, as well as a calendar feature that allows users to apply photos for each month and track schedules and scores for six sports teams.
Funnily enough, the top three apps in the paid Lifestyle category, for now at least, are SI's Swimsuit app, Ajnag's "Cannibis" app (which helps you locate medicinal marijuana collectives), and Digital Outcrop's "Mixologist – 7900 Drink & Cocktail Recipes." I guess this says a lot about who's currently cruising the Lifestyle category for iPhone entertainment.
But the Swimsuit app has enjoyed a swift ascent to the top rung—a Time Inc. spokesperson said the app shot to number six within hours, then went to number two, then hit number one by its first full day in the app store.
Meet the Author
---