SI Golf Group Launches "Supervertical" with Sports Illustrated At the Majors

Effort will transpire in increased coverage online, in video and in print.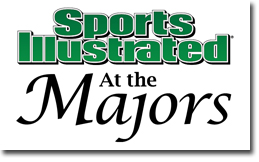 The Sports Illustrated Golf Group [SIGG] expands its live event coverage this spring with a "supervertical" dubbed Sports Illustrated At the Majors. This multi-platform editorial campaign, which will produce content for SI.com, Golf.com and adjacent print properties, will go live at four events (the Masters, US Open, PGA Championship and the Ryder Cup) beginning in April.
"The efforts are all about trying to find new ways to give our editorial team a chance to directly engage with golf fans and consumers," says Dick Raskopf, SIGG publisher. "For the advertisers, many of them see this as a one-on-one opportunity to engage with consumers as well."
SI will set up an editorial studio at each event, a host tent for writer round tables, live broadcasts and mini individual golf lessons from Golf Magazine's Top 100 Teachers (a group of the nation's best golf pros, as voted by their peers). Jim Herre, managing editor of SIGG, says SI's video production cycle will be tripled during these events.
"We thought we should build our own studio, particularly at the Masters, as they limit the amount of videographers that are allowed on the grounds,'" says Herre. "We're also opening the studio to anyone who wanders in."
Those who do end up in the pop-up studio will be offered a RFID (Radio Frequency Identification) wristband. After consumers register with the ID system, the bracelet will automatically update the user's Facebook account with news, status changes and personalized Sports Illustrated covers fans will be encouraged to pose for.
SI editors will be live blogging the events; there will also be streaming presentations featuring call-in audience Q+A's with participating editors. National stories for Sports Illustrated and Golf.com will appear in print, and three to four SI editors will create content for the SI Golf+ supplement. Currently, Golf+ has 500,000 subscribers.
Photographers as Story Tellers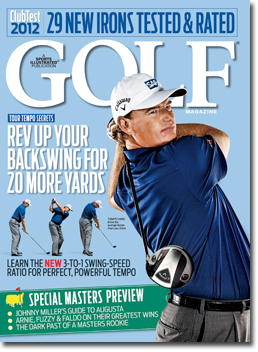 With Sports Illustrated At the Majors comes Photo First Person, another new editorial venture for SIGG. Herre explains how SI's photographers often include audio notes to accompany the pictures they take for editing purposes.
"We thought it might be an underutilized task set, and that maybe the photographers can be storytellers," he says. "The photographers will get an assignment earlier in the day, and they'll do a stand up-with a host (one of our editors), and they'll describe their assignment. Instead of just taking pictures and saying a few notes, hopefully we'll get something a little richer in the way of audio."
For each day of an event, there will be four installments per participating photographer. A runner will collect photo disks throughout the day and edit for audience consumption. Photographers will then be interviewed again at the end of the day for post-round insight.
Already, the "supervertical" strategy has gained advertiser attention. Southwest Airlines is sponsoring the editorial studio at all four venues, and first-time national SI advertiser Macy's is using At the Majors as a springboard for a new clothing line. Myrtle Beach, the third experiential sponsor, is supporting the personalized SI cover photo opportunity for fans. The April Masters Preview issue of Golf is the publication's largest advertising issue since July 2008; there's a 15 percent ad uptick from the April 2011 to the April 2012 issue.
Raskopf cites a continuously recovering economy, along with warmer weather and increased golf interest, for improved ad page numbers, "We have a very big issue in April, and things are trending in the right direction for May. As long as the market continues to stabilize, golfers are in a good position relevant to other consumer markets."
Meet the Author
---