SI Digital Edit Packages Fuel Revenue, Traffic Growth

Group says online revenue is up 35 percent year-over-year.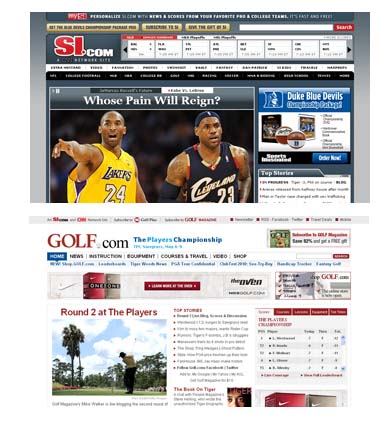 April marked the eighth consecutive month of traffic growth online at Time Inc.'s Sports Illustrated Group. The publisher says SI Digital sites—including SI.com and Golf.com—saw a 16 percent spike, year-over-year, in unique visitors in April.
SI.com specifically saw unique visitors in April climb 17 percent year-over-year, the company says. Year-to-date, meanwhile, uniques have grown 30 percent. Golf.com reported a 53 percent spike in uniques for April, fueled in part by interest in The Masters golf tournament.
Revenue at SI Digital also is on the rise, the company says, growing 35 percent year-over-year. Time Inc. declined to offer any specific revenue numbers but says the sales increases have been driven by a number of events and SI franchises.
For instance, the group created a "Nerve Center" at Golf.com for The Masters, a tool that continuously aggregated expert opinions, social media conversations and leaderboards, and updates from The Masters in a single window. The group managed to sell several new sponsorships around the tool, with advertisers including Fidelity, Nike, Calloway, TaylorMade and Adidas. Golf.com ad revenue surrounding its coverage of The Masters was up 138 percent over last year, the group says.
At SI.com, the group reported a 13 percent jump in revenue surrounding its 2010 swimsuit content, driven in part by its ramped up video package (about 100 videos in all) which attracted advertisers including Dodge, Heineken, Samsung and Mercedes Benz. SI.com's coverage of this year's NFL Draft was its most lucrative in the brand's history, it says, having won buys from advertisers such as Levitra, Sheraton, the History Channel and IBM.
Meet the Author
---