SI.com's Swimsuit Package Draws Site's Second-Biggest Traffic Day

Babes + bikinis = big, er, wins.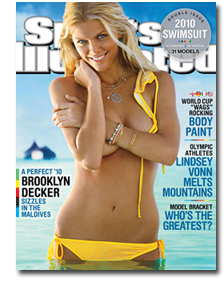 For the third straight year, Time Inc.'s Sports Illustrated unveiled its highly anticipated franchise powerhouse, the Swimsuit Issue, Monday night on CBS' Late Show with David Letterman. For those of you living under rocks, this year's sultry cover model is Brooklyn Decker, wife of tennis star Andy Roddick.
Wasting no time, SI posted the behemoth 2010 swimsuit package online, packed with more than 1,400 photos and 100 videos of all the scantily-clan models taken during their lush/exotic/(add suggestive adjective here) photo shoots. Sounds like a recipe for some server-testing traffic. And it was.
SI.com said the package drew 42.2 million page views, an increase of 14 percent over 37 million last year. Meanwhile, the number of unique visitors during the first day soared 85 percent to 2.3 million. Video views totaled 7.1 million, a 126 percent bump from 2009.
Overall, SI.com said Tuesday was the site's second-highest trafficked day (behind the February 15, 2007 Swimsuit Issue unveiling), with 3.633 million unique visitors.
With all the attention SI's Swimsuit Issue gets, the magazine's online success isn't overly suprising. (What is surprising is that I still haven't made it through the whole thing yet.) What's important here is the continued success the issue has had monetarily. The overall franchise—which I assume generates a sizable chunk of the brand's annual revenues—this year was up 15 percent in revenues over 2009. The magazine carried 67 ads, which was roughly flat over last year.
That's pretty good considering how bad the ad market has been.
For now, we can only wait and see if Decker and her bikini-clad ladies can move issues off the newsstands and on mobile in record-setting numbers.
Meet the Author
---