Newspaper Magazine Sued by Printer for $2M

RiseUp and the Kansas City Star locked in arbitration dispute.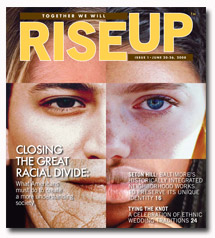 The owners of RiseUp—a weekly newspaper magazine that quietly launched last June with a four million circulation, only to fold two months later—are being countersued for $2.2 million by the Kansas City Star, which agreed to print and distribute it.
The Star filed a counterclaim in Ray County, Missouri Circuit Court Tuesday in response to a petition filed in February by RiseUp parent company Ellis Management Marketing Group. The petition claimed that EMMG, as well as its president and CEO Janice Ellis and her husband E. Frank Ellis, should not be held accountable under the printing and distribution agreements it signed last summer with the Star.
In its countersuit, the Star said it began attempting to collect payments for its services on July 14 last year. On September 3, the paper said it delivered a "demand" letter to EMMG but no payments were received.
The countersuit said the Ellises signed "personal guarantees" for "any payments due to the Star by EMMG, including any reasonable collection and attorney's fees." The Star is seeking $2.2 million in unpaid invoices—a dispute that went to arbitration last year—as well as interest and legal fees.
When reached by FOLIO:, Janice Ellis declined to comment on the petition or countersuit.
In December, the Los Angeles Newspaper Group filed a breach of contract suit against RiseUp, alleging the magazine owed it $93,306 for unspecified goods and services.
A New Life Online?
When EMMG pulled the plug on RiseUp last August, it hoped to relaunch the magazine—which featured race-related content—by the third quarter. "Of course the economy tanked and getting committed advertising was very difficult," Janice Ellis wrote in an e-mail to FOLIO:.
Since then, EMMG has been developing an online version of the magazine that it intends to launch by May 1. "We currently are previewing the premiere issue on the website and encouraging readers and supporters to subscribe," Ellis wrote.
Meet the Author
---