In Shift, Macrovision to Sell TV Guide Network to Lionsgate for $255M

Company calls off deal with One Equity Partners.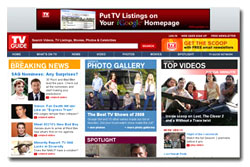 After announcing a sale agreement last month, Macrovision has decided not to sell its TV Guide Network and TVGuide.com to Allen Shapiro and One Equity Partners for $255 million. Instead, the Santa Clara, California-based digital software solutions firm today said it has agreed to sell the network to film entertainment studio Lionsgate for the same price.
The deal with Lionsgate is expected to close by February 28 and will be funded with Lionsgate's existing cash and available funds, the company said.
"In our previously announced transaction, prior to closing Macrovision was permitted to solicit and enter into agreements to sell the TV Guide Network and TV Guide online properties," Macrovision president and CEO Fred Amoroso said in a statement. "We believe this transaction improves the probability and the timing of closing the transaction, while providing non-contingent consideration comparable to our previously announced transaction."
In its previous agreement with One Equity Partners, Macrovision could have received up to an additional $45 million in "earn-out" can be paid through 2012. The closing of the deal with Lionsgate is not subject to financial performance requirements, the company said.
"The 'speed' with which one deal was substituted for another is pretty remarkable," Jeff Dearth, a partner with DeSilva + Phillips, told FOLIO:. "The original buyer may have backed out—perhaps due to issues related to the credit markets—and Macrovision may have then gone back to the 'runner up' in the process. What usually precludes this sort of situation is a 'no shop' clause when the original Letter of Intent is signed. Normally, a 'no shop' clause in the Letter of Intent would prevent the seller from contacting other potential buyers for a set period of time—usually 45 to 60 days.
"However," Dearth continued, "if the original buyer backs away from the deal on their own accord, then the seller is free to solicit other offers. This seems to me to be the most likely scenario in this instance in my opinion."
When contacted by FOLIO:, a One Equity Partners spokesperson declined to comment.
Last fall, Macrovision sold the print edition of TV Guide to Beverly Hills, California-based investment firm OpenGate Capital for $1, keeping the Web site. As part of the financial terms, Macrovision was to loan OpenGate up to $9.5 million at 3 percent interest.
In April, Gemstar-TV Guide stockholders approved the company's merger with Macrovision, which agreed last December to acquire Gemstar for $2.8 billion in cash and stock.
UBS Investment Bank served as financial advisor to Macrovision in the deal with Lionsgate.
Meet the Author
---