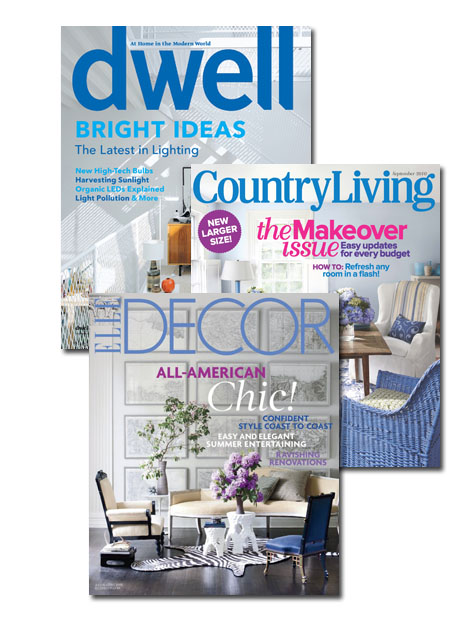 Over the last several weeks, the editorial leaders at the industry's top shelter magazines have been playing a game of musical chairs, much like the executives at the big publishing companies that own them. The most recent move came at Condé Nast's Architectural Digest, where longtime editor Paige Rense Noland retired and was replaced by Margaret Russell, the editor-in-chief of Hachette's Elle Décor. Michael Boodro, Elle Décor's executive editor, is serving as acting editor-in-chief.
Elsewhere, Stephen Drucker, who had served as editor-in-chief of Hearst's House Beautiful, jumped to sister title Town&Country, and was replaced by style director Newell Turner. Hearst's Veranda named Dara Caponigro, style director at now-defunct Domino, as editor, replacing founding editor Lisa Newsom. And Time Inc.'s Southern Living recently appointed former Cottage Living editor Eleanor Griffin as vice president of brand development.
"These changes mean there's a 'wanted-ness' in the shelter category, both in terms of readership and those who want to work in this category," says House Beautiful publisher Kate Kelly Smith. "From a business perspective, it may be a challenge to some titles because some advertisers like consistency and any changes mean their brands may not resonate as well."
In terms of business, now that the big shelter magazine die-off—spurred on by the housing market collapse and pullback in advertising dollars across the publishing industry—appears to have slowed if not stopped altogether, the forecast for the remaining titles seems to be that while the category overall is rebounding, the general market is still lagging. "Some aspects of the category are showing modest rebounding, but more mass-targeted brands are coming back slowly," says Chris Allen, publisher of Hearst's Country Living, which targets the shelter lifestyle market.
Meredith's category monster, Better Homes & Gardens (7.6 million circ) saw ad pages through the first half grow 6.8 percent to 823.92, according to Publishers Information Bureau figures. Percentage-wise, Elle Décor had the best first six months, with ad pages shooting up 15.6 percent to 474.16.
Meanwhile, Country Living (1.6 million circ.) saw ad pages tumble 25.1 percent to 337.58 (it should be noted that the magazine scaled back to 10x frequency). Veranda's ad pages slid 16.6 percent to 218.59. See the chart below.
According to Architectural Digest publisher Giulio Capua, the magazine—which saw a 2 percent decline in ad pages through the first half—is in a unique position as almost 45 percent of its advertising comes from non-endemic categories like automotive, finance, travel and fashion. "Our core, high-end housing business is back on track, but growth is slow and many companies are very tentative," Capua says. "Most of these advertisers are small businesses, and they have just been through a year of severe business retraction, where they have had to downsize to meet new levels of demand."
Finding Hope in Diversification
"The most resilient media brands are those that surround their community and deliver great content on all platforms—in print, online, live, with products, on TV and more," says Michela O'Connor, president of Dwell magazine publisher Dwell Media. Dwell's ad pages slipped 2.9 percent through the first half while overall circ inched upward by 1.9 percent to 334,117 (according to ABC numbers).
"We have diversified and we are now deriving great revenue from our 18,000-person Dwell on Design event, our Web site, our new research division called The New Face of Affluence, our iPad apps and our other products," she says. "We are also seeing a continued vitality in the magazine—although the cost of goods for the publishing industry are going up yet again, so all the gains are being eaten into by the added expenses."
Hearst's House Beautiful also has seen some success with expanding beyond the printed page. The magazine does a variety of marketing programs, the largest of which is its annual "Kitchen of the Year" in New York City. This year's program saw ad pages in the magazine from sponsors double from last year, Smith says. The issue generated 47 percent more pages over last year—a 27 percent gain in incremental pages and 28 percent more in revenue.
Of sister title Country Living's ancillary products, its Country Living Fair has expanded into two markets, Allen says, and has seen growth in advance ticket sales and vendor participation. Although he declined to offer specific figures, he says this year's event has seen sponsorship revenue grow by more than 100 percent.
Title
H1
ad pages '10
% chng vs. H1 '09
H1
overall circ.
% chng
over H1 '09
Architectural Digest
404.4
-2
840,995
0.1
Better Homes & Gardens
823.92
6.8
7,644,011
0.1
Country Living
337.58
-25.1
1,614,398
-0.9
Dwell
321.75
-2.9
334,117
1.9
Elle Décor
474.16
15.6
593,945
14.5
House Beautiful
319.73
14.3
906,349
10.1
This Old House
219.65
0.2
992,621
2.7
Traditional Home
312.12
6.4
1,001,765
3.5
Veranda
218.59
-16.6
450,252
-1.4

Sources: PIB and ABC