Sharing the Subscriber List (and Other Publisher No-No's)

When and how to draw the line with advertisers.
Advertisers have publishers over a barrel and many are starting to make requests that could have long-term competitive consequences, such as sharing the subscriber list. Likewise, event sponsors are becoming even more aggressive, often because they may not be as familiar with long-standing agreements of what is and isn't kosher—but also because there's a trend of hammering publishers even harder for events, especially as attendance is often down.
This article looks at how publishers are navigating some of the trickier requests they're getting from their clients and marketing partners.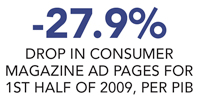 "Each case is unique," says Ted Bahr, founder of BZ Media. "You whine. You wriggle. You try to throw something else in.  You try to reframe the argument from the larger perspective emphasizing how important your audience is to their particular goals."
Occasionally, an appeal to reason works. "Sometimes you can get away with, 'It wouldn't be fair for me to give this to you when everyone else at your spending level only gets x,' but usually they don't care about that," says Bahr. "That's not THEIR problem."
Sharing Lists: Yes or No?
But should you share your list? Pressure to do so (particularly from event sponsors who want full subscriber lists) is mounting, even though it's long been understood to be "hands-off" by both publisher and client.
"I'm a former list manger and you can't give in on the list," says Watt publisher Steve Akins. "Why not offer to do an e-blast to subscribers with a survey, including questions the sponsors what to ask? That way they can get the responses they want and start to build their own database with folks who choose to give their contact information (prompted) during the survey. You could package this as part of the overall sponsorship cost."
Others are offering up their lists. "We share our list all the time with large advertisers and it has not hurt us one bit," says Paul Black, sales and marketing manager at Ball Publishing. "We have a disclaimer on our own sub forms stating that by signing the form they consent to receive our magazine as well as information from our partners. There is also an opt-out box."
Brandie Ahlgren, publisher of startup CityDog Magazine, says she was asked by a local non-profit advertiser if she would share her subscriber list in exchange for sponsorship at the non-profit's event. "I consider this a win-win and not too intrusive on a subscriber," says Ahlgren. "But, it did get me thinking about the value of contact information and how to best use it without alienating our subscriber base. I've been considering asking the reader permission first, then sharing their information as direct leads to advertisers. We haven't done it yet, but their contact information would be kept in a database and sold to advertisers/sponsors as direct leads."
Black agrees that specific conditions must be met. "If you give them your list, I would urge you to stipulate the exact purpose they will be allowed to use if for, and how many times they may use it and through what date," he says. "Then seed the list with several names that you can track to ensure they do not try to reuse the list later or worse—resell it."
When dealing with an event partner, there are two basic points to consider, according to sales consultant Josh Gordon. "One, after the money changes hands. Then what? Will you have damaged your long-term ability to generate revenue from this account or others?"
Secondly, is there a way to move from simple mailing list transaction to partnership? "When a conference writes a check for use of a publication's circulation, they get the heart of the publishing brand while the conference barely breaks a sweat to help the publication," Gordon says. "There are far more extensive things a conference can do for a publication that are worth far more than the profit of a simple list rental. But conferences like this arrangement because the cash they spend is not a lot and it is very easy for them. More difficult would be to partner with the publication in ways that benefit the publication, like making the publication an exclusive sponsor, promoting the publication's editor for speaking slots and signage, aiding publication-sponsored focus groups, and having the conference give the publication access their mailing list to promote circulation."
Meet the Author
---