Shape Garners 400,000 Sweepstakes Entries Via Barcode

60,690 readers scanned the 31 codes in the magazine's November issue.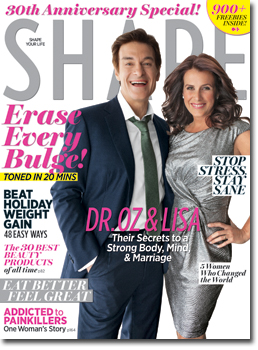 For its 30th "birthday" issue last month, Shape magazine launched an extensive mobile sweepstakes involving 31 Microsoft Tag 2D barcodes—16 on the advertising side, and 15 for editorial—which garnered nearly 400,000 entries—a record among any mobile sweepstakes campaign launched by a national monthly magazine, according to its partner in the effort, mobile marketing company Nellymoser. The total number of readers participating was 60,690, putting the average number of entries per person at about six to seven each—a number that speaks to a high level of reader engagement, says a Shape spokesperson.
The takeaway for magazine publishers, according to Roger Matus, executive vice president of Arlington, Massachusetts-based Nellymoser, is that "sweepstakes and discounts really increase the response and participation rate" compared to other uses of the action codes. He adds, "There does also seem to be a multiplying effect by having more codes in a magazine. If you have 10 codes, you get more than double the result than if you had five."
To participate, Shape readers were directed to download the free Microsoft Tag reader application to their smartphones and then to scan the sweepstakes logo on various pages of the magazine in order to enter to win products such as sneakers, mascara, exercise equipment, and so on. Once a code was scanned, users would be directed to additional content such as a video, a website or landing page to "like" the product on Facebook. Each scan also increased a participant's chances at winning the grand prize trip to Aruba.
Readers needed to submit their contact information once, regardless of the number of prizes they entered to win. Advertisers, in turn, would receive information for those who entered to win the prize they offered, as well as the ability to follow up with those who didn't opt-out.
While the endeavor was quite an undertaking, says Shape's brand director John Balen, the results have been "beyond satisfying," and the magazine plans to make this part of an annual program offered to sponsors and advertisers.
Nellymoser has run more than 400 campaigns for magazines this year, says Matus, including Sports Illustrated for its swimsuit issue and Entertainment Weekly. The company recently released a study that showed a dramatic 476 percent increase in the number of magazine action codes from January to September 2011, from just 88 in January to 507 in September. The study also shows an increase in advertising versus editorial codes: in January, the ad to edit ratio for codes was 7:1; by September, the ratio jumped to 20:1.
According to the study, Microsoft Tags rank behind QR codes as the second most used type of action code, making up 30 percent of all codes used in quarter three 2011. Meredith Corporation announced it plans to make Microsoft Tag the 2D barcode standard across its portfolio of magazines, including Better Homes and Gardens, Family Circle and Ladies' Home Journal. Microsoft Tag was chosen for its innovation, scale, and features and as an effort to offer a consistent experience to readers, according to the company.
Meet the Author
---