Sex Director, SJP Rip TONY Over Duct Tape Cover

Film director, star lash out on Charlie Rose.
For those of you waking up from a stiletto-induced coma, Sex and the City is the number one movie in America, earning some $55.7 million over the weekend, the biggest opening haul for an R-rated comedy in history.
Magazines, you could argue, had a lot to do with it, considering approximately every magazine in America put Sex on its cover in the weeks leading up to its premiere. As this blog noted a couple weeks ago, Time Out New York featured the film's stars on its cover, too, except with their mouths covered in duct tape, a shot at the relentless marketing push the film was receiving.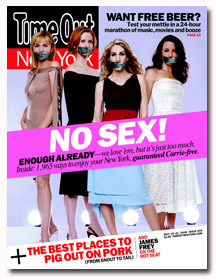 Sarah Jessica Parker and director Michael Patrick King appeared on Charlie Rose on Friday to discuss the film and, in one segment, how magazines had treated them. Not surprisingly, they were none too fond of TONY's take, although I found it somewhat surprising how serious at least King sounded. But he does have a point: "I don't see Indiana Jones or Iron Man on any magazine with the tape on their mouths. Is it really that Sex and the City should shut up, or that women should shut up?"
I think, ultimately, TONY was responding to the press crush in New York. I definitely didn't notice the same tenor of Manhattan buzz for Indiana Jones. I mean, no restaurants were branding Harrison Ford martinis, were they?
Meet the Author
---