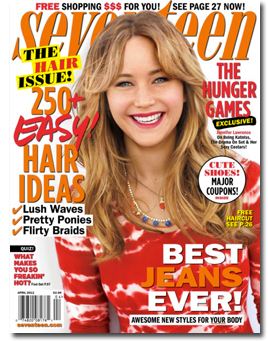 As long as there has been celebrity culture, there have been women griping about the unobtainability of airbrushed perfection. The latest controversy is led by 14-year-old Julia Bluhm, whose online petition asking Hearst's Seventeen to publish one Photoshop-free spread a month caught the attention of the nation. The petition on change.org now has over 49,400 signatures, and the crusade culminated in a protest outside Hearst Towers yesterday.
In response to a request for comment, a Seventeen spokesperson emailed, "We're proud of Julia for being so passionate about an issue – it's exactly the kind of attitude we encourage in our readers – so we invited her to our office to meet with editor in chief Ann Shoket this morning. They had a great discussion, and we believe that Julia left understanding that Seventeen celebrates girls for being their authentic selves, and that's how we present them. We feature real girls in our pages and there is no other magazine that highlights such a diversity of size, shape, skin tone and ethnicity."
One can only imagine the conversation between Shoket and Bluhm, and whether Bluhm felt as if her concerns were properly addressed.
Regardless of Seventeen's resolution, the rest of the industry is slowly addressing the "real women" controversy. Conde Nast International announced the 19 editors on its international Vogue editions will "not knowingly work with models under the age of 16 or who appear to have an eating disorder," reports the Wall Street Journal. PEOPLE opened its "Most Beautiful" Issue to reader submissions; though only those between the age of 20 and 59 are eligible for consideration. Ladies' Home Journal continues the trend of "real women" integration into its pages, with audience contribution featured in the majority of editorial content.
Setting impossible standards for the everyday woman is a crime media is often accused of, be it magazines, television or movies. But on the other side, one has to wonder if those women demanding realistic depictions on glossy covers would continue to buy products if this came true: Fantasy is a large selling point for consumer magazines, whether readers realize it or not.
Blaming Seventeen, Cosmo, Vogue etc. for creating impossible stereotypes strikes me as an oversimplification of a complex matter. Expecting corporate-produced products with ad page and circulation quotas to serve as moral compasses is as silly as expecting pop stars to behave as role models.