Semantic Ad Platform Creates Analytics Dashboard for Publishers

Peer39 upgrade includes data on content inventory and advertising operations.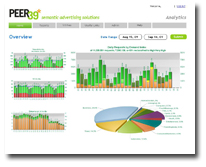 Peer39 has upgraded its semantic targeting technology platform, which analyzes URL categories and matches advertisements to related editorial content, to now include an analytics dashboard allowing publishing executives to gain insights into inventory in "almost real time."
The dashboard features an "executives" tab, which overviews content categories and ad placement via pie charts and offers analytics, graphs, tables and insights for various groups on the publishing side that deal with inventory and advertising operations. It also will introduce an ad operations section for projections on the amount of content created in a given category, simplifying the process of predicting revenue for a particular ad campaign.
Sales people also can utilize post-campaign reporting functions, which are broken down by conversions, clicks, and volume, with the option to add and block content categories, helping advertisers that require brand-safe environments on publishers' sites.
According to Peer39 CEO Amiad Solomon, the company expects its new dashboard interface "will give [clients] a better understanding of, and the ability to take further advantage of, our platform's capabilities."
For publishers already signed up for Peer39 (cost is an annual flat rate based on number of impressions, or a per-CPM fee), the dashboard upgrade is free.
Meet the Author
---