As an element of a marketer's branding strategy, social media is huge. Some publishers are finding ways to leverage their social graph as a part of their overall marketing package offers to advertising clients. Bonnier's Parenting brand, for example, is creating unique Facebook and Twitter client campaigns that often lead to bigger media spends across more traditional platforms.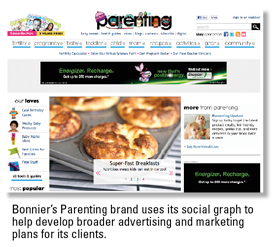 "In every single contact or communication we have with clients we are talking about social as part of their branding strategy," says Mark Wildman, vice president and group publisher of the Parenting Group.
The group has been proactively building its presence on the various social platforms, which is now mature enough to create dedicated modules to offer clients.
Using Twitter, Parenting created a tweet chat event for stroller maker Phil & Ted's, riffing off of the company's "adapt and survive" marketing position. The tweet chat, which occurred in late December, revolved around surviving the holidays. Prominent mom bloggers were invited to participate, which had the dual effect of boosting the influence of the chat and greatly expanding the potential follower pool.
During the chat, close to 2,000 dedicated tweets were written reaching a base of about 300,000 unique followers.
For branding, Phil & Ted's recorded about 700 @ mentions. An #AdaptandSurvive hashtag was created as well to further integrate the client into the conversation. "What we're doing is incorporating our client's brand into the conversation with dynamic hashtags, but thematically hosting these conversations so they're aligned with a brand's specific marketing position," says Wildman.
Wildman has also assembled a "mom-tested panel" from Parenting's Facebook community, which is used to provide realtime testing and feedback on actual products. There are more than 4,000 moms on the panel and Wildman expects that to scale to 25,000 by May.
A campaign with Vicks used the panel to test a thermometer. Vicks had done much of its brand positioning already, but used the panel as a final, realtime test of the product. "What this does is not only confirm Vicks' overall position in terms of their go-to market strategy, but they gained other insights as well," says Wildman.
Integrating Social into the Selling Process
Like most sales approaches, Wildman's team starts with a needs-based line of questioning with clients. "Clearly they're trying to sell more product, but we will ask them if they're going through a branding exercise or if they need certain content elements for their e-commerce platform. Maybe they have needs for immediate research," says Wildman.
The latter led to the Vicks campaign. And from there, adds Wildman, a broader campaign can potentially be constructed. "I can take some of the learnings we've gained and develop with them a comprehensive marketing and advertising strategy if it's of interest to them. Maybe we can develop a digital campaign that addresses this or maybe we can develop something that leverages our print properties, and so on."
By the Numbers
Parenting.com's recent Twitter campaign for stroller maker Phil & Ted's capitalized on the brand's "survive and adapt" market positioning by hosting a sponsored #babychat on how to survive the holidays.
• 1,874 tweets in 48 hours
• 14 million potential impressions
• Reached an audience of 297,000 unique total followers
• 215 unique #babychat tweeters
• More than 330 #adaptandsurvive tweets
• More than 700 @mentions of @philandteds