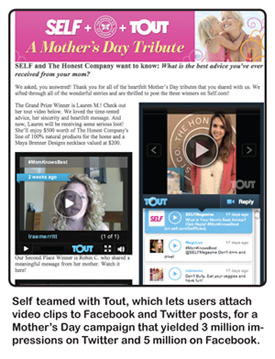 April was a record-breaking month for Self.com, as the site reached 4.3 million unique visitors, 30 million page views and an average session length of 8 minutes. Not surprisingly, social media has been a significant driver of this activity, as the number of page views and unique visitors to Self.com from social channels grew 3.2 percent between March and April. But for the Self brand, social media marketing serves much more than just the brand's website. "It's a big platform for cross-pollination and promotion," says Stephanie Miller, Self's social media editor. "It's not just this siloed animal, it's an integrated part of our entire strategy."
A recent example is the brand's Drop 10 Diet initiative. On social media, this platform includes a Drop 10 Together Facebook app, with roughly 7,000 members signed on so far, and a #Drop10Diet hashtag that has garnered more than 2,000 unique tweets. Twice per week, Self features a fitness and nutrition expert host on its Facebook page, sharing tips and advice with followers. This activity on social media helps to market Self editor-in-chief Lucy Danziger's book, Drop 10 Diet; Drop 10 Diet-branded content in the magazine; a special interest publication, Flat Abs Made Easy, on stands through the summer; and Self's Healthy Beauty and Healthy Food awards.
Within the social media "silo," however, the campaign helped boost the brand's overall audience. The Drop 10 campaign, which runs from March through July, contributed to Self's more than 10,000 new Facebook likes in April—a 5.5 percent increase over March, which helped bring the current total to more than 205,000. To date, the brand has more than 120,000 Twitter followers, boosted by a 6 percent month-over-month increase between March and April. This increased audience, in turn, extends the reach of future marketing efforts.
In May, aligned with Mother's Day, Self looked, in part, to its "Mom Knows Best" campaign to continue this trajectory. The brand teamed up with natural baby products retailer The Honest Company and its founder, actress Jessica Alba, as well as social media platform Tout. Tout allows users to create 15-second video status updates for Facebook and Twitter through their computer or smartphone webcams.
The campaign kicked off with a Tout video from Alba, who asked the audience to send a video reply, with the hashtag #momknowsbest, to the question, "What's the best advice you received from your mom?" A Tout widget on Self.com featured the entire stream of replies, available for sharing through Facebook, Twitter, Pinterest, email and text message. For each response, a donation was made to Baby2Baby, a nonprofit organization that supplies families in need with baby clothing and products. The winning video—selected by The Honest Company and Self—received $500 worth of The Honest Company products as well as a $200 Maya Brenner Designs necklace.
10 Days, Millions of Impressions
Overall, the ten-day campaign yielded 145,000 video views, as well as more than 3 and 5 million Twitter and Facebook impressions, respectively. #ToutMoms reached the number-two trending hashtag spot on Twitter.
According to Miller, the campaign was focused on "leveraging a key moment in time, and two up-and-coming brands." The idea evolved from an informal meeting between Self and the one-year-old Tout.
"We are big fans of using their platform," says Miller, "and we've always been big fans of Jessica Alba. So we said, 'Hey, let's do something with Jessica Alba for Mother's Day.' That's really the key with a lot of our social efforts. It's a learning experience. That's the fun of social media."