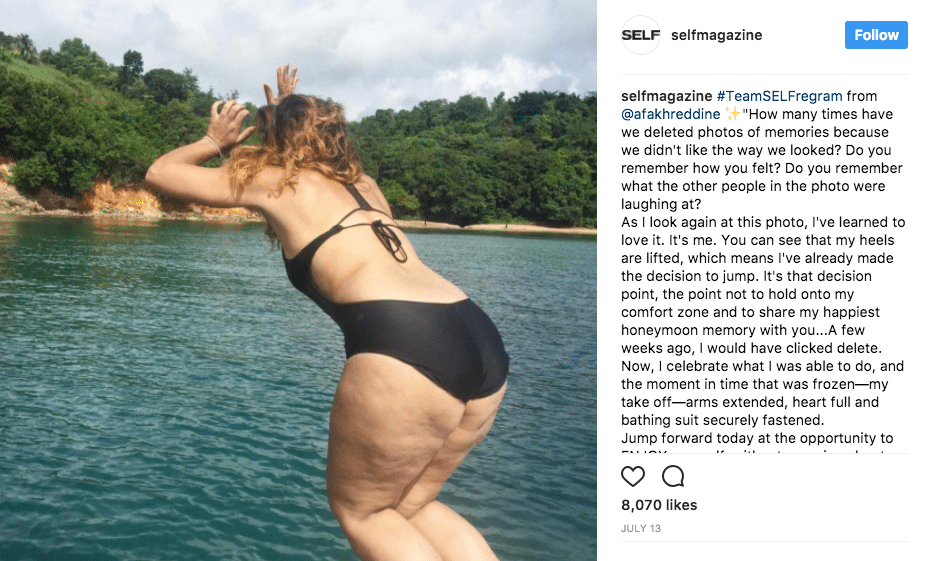 ​Magazine:  SELF //  Instagram: @selfmagazine //  Executive Editor: Leta Shy // Posted: July 13, 2017 // Likes: 8,070 (as of 7/25) // Comments: 257 // Followers: 574k
Caption:  #TeamSELFregram from @afakhreddine "How many times have we deleted photos of memories because we didn't like the way we looked? Do you remember how you felt? Do you remember what the other people in the photo were laughing at?
As I look again at this photo, I've learned to love it. It's me. You can see that my heels are lifted, which means I've already made the decision to jump. It's that decision point, the point not to hold onto my comfort zone and to share my happiest honeymoon memory with you…A few weeks ago, I would have clicked delete. Now, I celebrate what I was able to do, and the moment in time that was frozen—my take off—arms extended, heart full and bathing suit securely fastened.
Jump forward today at the opportunity to ENJOY yourself, without worrying about the freeze frame. You are perfectly you. Your memories are perfectly yours, regardless of the photo.": @afakhreddine | #TeamSELF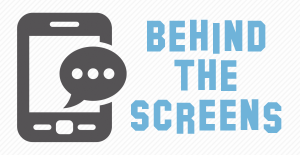 PRO TIP: Sharing user posts alongside original content can help with audience interaction.
In its new digital-only era, Self's social media team relies on its followers, now more than ever, to drive engagement.
The content shared on Self's Instagram coincides with its mission, which centers on empowering women to make healthier decisions for themselves, their communities, and the world, says Leta Shy, executive editor.
"On Instagram we want to show that wellness means different things to everyone by aiming to be authentic and relatable no matter what we're talking about," Shy tells Folio:.
In addition to promoting the brand's mission, the team seeks to engage its follower community.
"We measure success by engagement, whether that is comments, likes, or by how well we feel the post communicates our brand mission," Shy says.
In an effort to celebrate its mission and share relatable content, the Self social media team created the "TeamSELFregram" hashtag. Shy tells Folio: that "TeamSELFregram" allows the team to ask users for permission to share content they love.
"Our social media team is very active in the Instagram community, so they're constantly finding posts that resonate and that we want to share alongside our own original photos and memes," Shy says. "We want to share content we love, whether it's created by us or another brand or someone from our audience."
On July 13, the Self social media team used the "TeamSELFregram" hashtag to share a post from Instagram user @afakhreddine. In the post, the user describes her experience with initially disliking a photo of herself because she didn't like the way she looked. However, after contemplation, she learned to love the photo, recalling the memory with fondness and telling followers to "enjoy yourself, without worrying about the freeze frame."
The post was a hit, with over 8,000 likes and 250 comments, numbers that appear to about double the average engagement on Self's feed.
"The post that we regrammed from @afakhreddine was very thoughtful and relatable," Shy says. "I think people really identify with her reference to deleting photos for reasons that shouldn't matter, and that celebrating the moment and the memories is more important than how you look."
Shy tells Folio: the Self team loved this post because of the user's ability to be authentic.
"A big part of wellness is body positivity and self-care, and we love that she was willing to be vulnerable and authentic in her post," Shy says. "We're glad that our audience felt the same way."