Selecting an Outsourced Sales Firm

Two publishers discuss the economics of outsourcing their sales operations.
While the idea of using independent reps to sell ad space in certain geographic areas isn't new, more magazine publishers are beginning to explore the possibilities of outsourcing their entire sales operations to independent sales firms.
The magazine industry used to depend mostly on independent sales reps at one time, according to Jim Elliott, president of independent sales firm James G. Elliott Co., but that trend shifted in the late 1960s and early 1970s. "And once that shift occurred, it made more sense for the magazine companies to retain direct employees, mainly because of the large travel and entertainment budgets involved," he says.
Saving money is once again one of the main reasons why companies have gone—or might be looking to go— in the opposite direction, but there are many more pros, as well as cons, to consider.
"First, magazine companies need to look into what their core business is," Elliott says. "Second, they need to know whether or not they are an organization that is willing and able to culturally work with an outsourced group. Next, they have to take a look at the economics of making the switch. Is the current climate conducive to having their own reps, or does that even matter anymore?"
FOLIO: spoke with two publishers that recently made the switch from having in-house sales teams to using independent sales reps about what factors led them to their final decision, what they've gained from outsourcing their sales operations and what suggestions they have for other publishers on the fence.
Christian Science Monitor: Saving $80,000 Per Year on Direct Costs
Last spring, after looking into the various options available, Christian Science Monitor decided to have an independent firm handle all of its sales operations. Saving money was the main criteria for making the decision—the company saves approximately $80,000 a year in direct costs alone—but Christian Science Monitor also gained a lot more, according to ad director Bob Hanna.
"By outsourcing our sales team, we got a more experienced staff than we could afford to get on our own," he says. "We also got additional resources that we couldn't afford on our own, including promotions assistance and research assistance."
The other ancillary benefit that the company didn't anticipate was that the firm also represented titles that were in a similar space, such as The Nation and National Review. The reps formed a network consisting of these titles and offered it as a package to appropriate advertisers. Combined, the network represented more than 430,000 in print circ.
"This was very beneficial for our brand because our Web site has a large presence, but our print circ is small," Hanna says. "Our site gets 2.5 million monthly uniques, but we only have a print circ of 67,000. Combining our circ with those other titles allowed our title to perform better than if we had been in the marketplace individually."
Outsourcing sales operations can,  however, have one large drawback. "I think there's always a sort of sense in the back of your mind that if it were my own staff, I'd have more control," Hanna says. "And that's a natural reaction."
Elliott also sees this as a major roadblock when potential clients are on the fence about outsourcing with his firm. "There is a sense with some executives that when they have their own salespeople, they can control them," he says. "It always boils down to a matter of control. But there are other publishers that say, 'I don't care about controlling the staff, I just want to control the results.' And that aspect can be controlled via contract."
But partnering with the right firm can help alleviate some of those fears, Hanna says, because it all comes down to having healthy communication with the sales reps that are working with your brand. "The reps at our firm don't act like outsiders," he says. "They get very involved. And from beginning to end, we get them involved because we figure that they are the experts—we want to know what they're thinking. Oftentimes, the way you work with outsiders will determine how they work for you. I treat the reps as if they were on my own payroll."
Six independent reps are currently assigned to work for Christian Science Monitor and all are working on both print and online ad sales. This, Hanna says, is because most advertisers these days request more comprehensive and fully integrated proposals.
The company also found it important to work with a single organization with reps nationwide, as opposed to working with many firms that deal with certain cities or geographic areas. "Doing it this way allows us to communicate more effectively, get consistent input and it helps make them a part of our team internally," Hanna says.
Christian Science Monitor also required that the reps use Salesforce.com as internal contact management, so that Hanna can quickly access their activity and track their progress. "We also exchange e-mails and phone calls with the reps on a regular basis. Not a week goes by where there is no contact. We don't treat them any differently than we would an internal staff. The only difference is that we don't cut their paychecks."
ABA Journal: Combining Sales Territories Yielded Single-Digit Growth
When ABA Journal decided to outsource its sales operations in June 2008, the brand had more to its plan than saving money. It had already been using independent sales reps in certain geographic areas, but wanted to reach beyond its endemic advertisers that targeted lawyers specifically.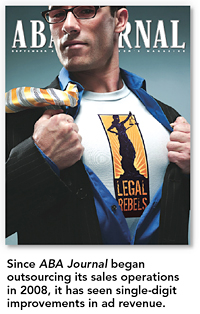 "It makes the most sense to outsource ad sales when it fits a strategic plan," says editor and publisher Edward Adams. "It's easy to say 'It will be cheaper, so let's do that,' but you need to match the move up to some sort of strategy. We figured that outsourcing our sales operations was the best way to reach out to b-to-b advertisers that lawyers would be interested in, such as financial services and office suppliers."
The firm that ABA Journal chose was already selling into that market, Adams says, and therefore had a relationship with those advertisers. The firm, which was previously handling some of the title's sales in certain areas, was able to combine ABA Journal's territories into one. The title also outsourced its marketing department.
Since outsourcing its ad sales, ABA Journal has seen single-digit improvements in ad revenue, according to Adams. "In the midst of the biggest ad depression since the 1930s, that's an enormous improvement. Our competitors are seeing double-digit declines right now, so that's an indication that we made the right move."
The cost savings have also been significant, Adams adds, and still would have been, even if ad revenue didn't increase. "We saved the vast majority of our advertising and marketing budget, basically everything that was not attributable to commissions," he says. "We saved a substantial six-figure amount."
For publishers deciding whether to take the plunge, Adams suggests that the firms they're considering have the right people in the right areas, including where their ad base is located and any areas that their aspiring to reach. The reps from that firm should also have "fire in their bellies" and be willing to "walk through walls."
"We have one guy selling for us that comes from a newspaper background," Adams says. "So he brings to his role a daily newspaper mentality. He e-mails me early in the morning and late at night, and he's always reachable by phone. He's in constant contact and always looking for ways to raise interest. He's not just selling pages, but putting together packages that match with the advertisers and their goals. Make sure the reps you're dealing with have a real energy and enthusiasm."
Meet the Author
---