Seed Media Launches Green Women's Magazine

Boho said to be first fashion title printed on 100 percent post-consumer waste.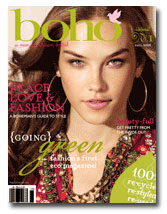 Looking to capitalize on the growing green trend, New Jersey-based Seed Media recently launched Boho—a women's magazine covering green décor, fashion, beauty, travel and lifestyle.
According to founder and editor Gina La Morte, this is the perfect time to launch Boho because "people need and desire" to do good things and give back and help the environment. "They want to make changes in their own environments and their everyday experiences, but still want to read a magazine, so we wanted to do it in the most eco-friendly way possible," she said.
La Morte, who founded TheStyleDoctor.com, says Boho will be the first fashion magazine to be printed on 100 percent post-consumer waste, non-glossy paper with natural soy ink. The distribution model is 30 percent subscription, 40 percent to newsstand and 30 percent to strategic partners and promotional events.
It was not immediately clear what the initial print run for the 10-times per year magazine was. A spokesperson did not immediately return a request for comment.
La Morte predicts Boho will appeal to younger women, but is not ruling out a following from older women, too. "For us, the girl is freethinking, radical and wants to be a role model," La Morte said. "She loves fashion, but also loves giving back and recognizes that she can love the fashionable things in life, girly things, but is also concerned about her neighbors."
Meet the Author
---