Security Dealer Turns 30, Changes Name

Magazine marks anniversary by adding "Integrator" to title.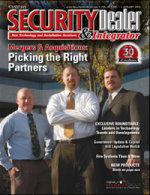 Marking its 30 year anniversary, Cygnus Business Media's Security Dealer magazine has changed its name. Now, the burglar and fire alarm title will be called Security Dealer & Integrator.
According to publisher Peter Harlick, the magazine served its customers when it launched "by providing equipment to fulfill a need. Today, that same dealer has several options on how security equipment can be integrated into a total turnkey solution. As the leading magazine serving dealers, reporting on security integration is vital to our readers."
Security Dealer launched in 1972 as a supplement to Security Industry & Product News. It was first published as a standalone monthly in 1978.
Meet the Author
---