Section Two: Projecting the Revenue Opportunity

In planning and building your Web site, you've determined how to generate traffic and sustain interest. Now the key task at hand is to turn that Web traffic into revenue. Can you sell Webinars? Are job boards your big opportunity? If you create a content-rich "institute," with paid access, how much revenue will you generate? Perhaps an e-mail newsletter will drive your revenue model, or simple banner ads.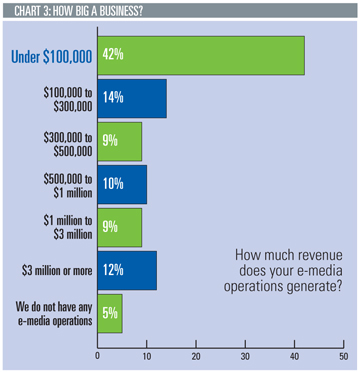 FOLIO:'s research indicates that most of our respondents have modest revenue goals. Forty-two percent of them said they expect their e-media operations to produce less than $100,000 [See chart 3]. Another 23 percent estimated between $101,000 and $500,000, and 21 percent guessed they'd produce more than $1 million in e-media revenue in 2008. Interestingly, the majority of respondents—66 percent—said that e-media revenue is a very small part (0-9 percent) of their overall revenue. [See chart 4].
In terms of what our respondents are bullish on, video seems to generate the most interest. Asked to name which items from a list of 16 features, applications and elements planned for the next 12-18 months, 31 percent of respondents said video. The same percentage, 31 percent, cited blogs. Also high on the list were Webinars at 26 percent, podcasts at 26 percent, and forums at 22 percent. [See chart 5].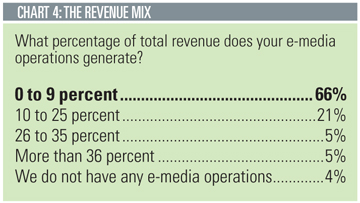 Interestingly, job boards, e-newsletters, directories and photo galleries, all of which are basic opportunities, were mentioned by far fewer respondents.
Reni Publishing, a Winter Haven, Florida-based publisher of titles such as Florida Real Estate Journal and Destination Florida, has an online content strategy that boils down to four main points: Search, Save, Archive, Print. "Things like blogging and podcasting are fun but the priority was getting our content online and making it searchable," IT/circulation director Jay Hook reported in a FOLIO: magazine interview. "I've seen a lot of articles downplay search-engine marketing, but I feel SEM is a huge part of the strategy. It's half of your traffic if not more."
SEO and SEM capabilities were the first features Hook looked for in Web applications, followed by RSS and "e-mail to a friend" functions. "These were three things that were going to take us from having nothing and a site updated once a month, if that, to a site that is updated almost every day," he adds.
Beyond the technology, fresh, original content was key. "After we found the software, we needed to make sure there was fresh content and we could get it out without killing the print," says Hook. "We put all articles online, but our feature stories we put on immediately. Anything else is archived after a month, which for us means two issues.
"We've definitely made money with the site," says Hook. "We spent about $1,000 on it. The main CMS was $200, the newsletter was $200, and there are about five other programs we use. If we sell 10 subscriptions we've paid for it and we've sold a lot more than that."
Putting archives on the site proved to be one of the biggest technical challenges for Reni. "Sometimes the simplest solution is the answer," Hook says. "We have a lot of content, with more than 30,000 articles in the system, and only one or two times people said they couldn't find an article."
Hook advises other publishers to focus on functionality over gimmicks. "Give people what they want. Don't make it complicated, you don't want to create these traps for people to go through to get things," says Hook. "It's all free, it's all simple."
Next Hook wants to experiment with social networking, podcasting and video classifieds. "We want to give advertisers another point of revenue," he adds.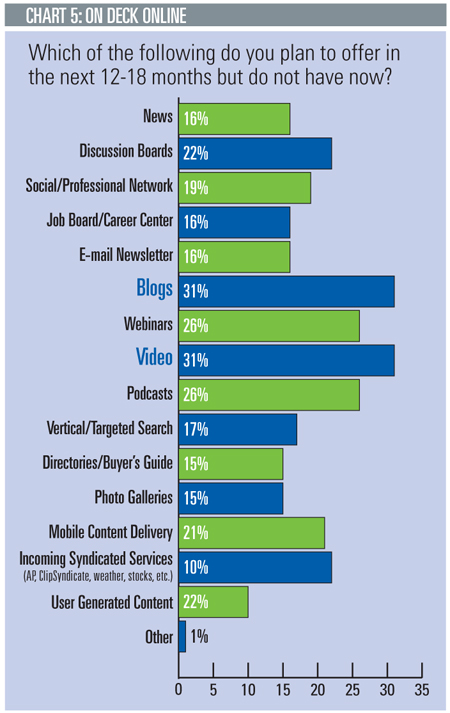 From Implementing to Selling
Clearly, when considering what kinds of elements to put on your Web site, the sales techniques come from the type of element itself. "The concepts of selling online are analogous to selling TV ads," says Tom Koletas, managing director of advertising sales at Imaginova, the parent company of online sites Space.com, Aviation.com and LiveScience. "There's a lot of work that goes on after the sale, unlike in print, where once you make the sale, it's over."
Online media sales are at the same time similar to and different from selling print media. Savvy clients know, for example, that their online presence can be measured almost in real-time, and expect results nearly as fast from their banner ads or other buys. "Sizzle sells more than CPMs," says Koletas. "Right now, 'widgets' are a strong sell. If you can bring a widget to the table as part of a [sales] package, the client gets excited and the sale is easier," he says.
"Online ads are immediately accountable," says Dave Cooper, senior vice president and publisher at SportNet.com, a group of online-only sites focusing on enthusiast-based niche sports. "An advertiser expects a professional Web site that has invested in technology, design and content. They want to ensure a high level of interaction with the user—blogs, chats, video, comments and polls, being able to e-mail to a friend. 'Stickiness' is extremely valuable to advertisers."
For our respondents, online sales is going to be critical. They're very bullish on e-media growth. Where 42 percent of respondents said their e-media revenue was less than $100,000 this year, that percentage declines to 34 percent for 2009, and 15 percent in three years. And those who anticipate revenue of $3 million or more increases from 12 percent currently to 25 percent in three years.
E-mail dominants as an ad-delivery system, with 45 percent of respondents saying they deliver ads via e-mail. Forty-percent say they use an in-house platform, 29 percent use another third-party banner-ad platform and 27 percent use Google AdSense.
Introduction
Section One: Setting Objectives
Section Three: Evaluating the Applications, Features and Software You Need
Section Four: Evaluating Staffing Needs and Whether to Hire Within or Outsource
Section Five: Setting a Budget
Section Six: Projecting ROI
Meet the Author
---