Section Three: Evaluating the Applications, Features and Software You Need

Once you've identified the revenue opportunity and the features you're going to add, you need to drill down some more and evaluate the features and costs and competing products.
Our respondents had some illuminating feedback. Asked to identify from a list of 13 software products used in Web development, the vast majority—75 percent—said they rely on HTML or XHTML, with 54 percent using Flash, 48 percent using Javascript, 37 percent using RSS and XML, and far fewer using such tools as Cold Fusion, CGI/Perl or an ASP approach. [See chart 7].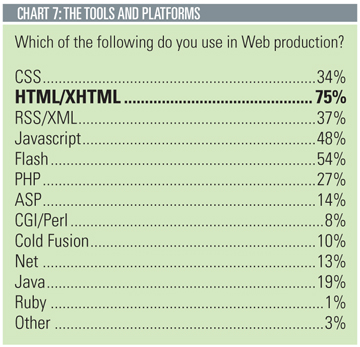 Alternatively, asked to name their current content-management system, most of our respondents are going the proprietary route, with 37 percent saying they have a custom-built solution, 16 percent saying they use a customized open-source solution such as Word Press, Drupal or Joomla, and 13 percent saying they purchased a CMS such as Documentum or Zope. Only 3 percent said they use an open-source solution with no customization. [See chart 8].
Clearly, it's probably one of the most difficult aspects of launching a companion Web site to your publication: Evaluating the technology and software necessary to bring an idea to fruition and assessing the associated costs. Regardless of your planning and staffing decisions, your digital presence will struggle without a strong infrastructure. Although the task is daunting, the trick is to know your own limitations and seek outside support when and where necessary.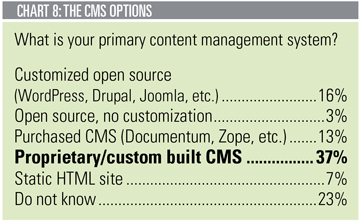 With a simple statement, Toyin Awesu, editor and publisher of Beltsville, Maryland-based Avenue Report, a small, independent fashion magazine aimed at African-American men, sums up the fear and trepidation of many publishers planning a move to the Web: How do we do it right from the outset? And what exactly is involved in establishing a successful digital presence? Awesu relaunched her Web site in April of 2007, ahead of rolling out her print publication that fall. To help AvenueReport.com make a splash from day one, Awesu hired a Chicago-based Web developer to rebuild her original site with all the features she wanted: Flash, blog capabilities, video content and more. And the price was a reasonable $3,500.
For small companies like Awesu's, it makes sense to start small and build as you go. But other companies can easily spend $30,000 or more to have a robust site built for them, estimates Tim Sullivan, president and CEO of Godengo Inc., an Oakland, California, company specializes in building Web sites for regional magazine publishers. "For a content management system, there are a couple of different options available for publishers," he says. "It all depends on how 'custom' they want to go, plus time and materials."
For example, Sullivan estimates that maintenance for a publisher's site can start at around $500 a month for baseline services, which include hosting, site monitoring, software licensing fees and bug fixes to software. The price goes up for various add-on services such as search-engine optimization—which can range from a low of $25 a month to higher-end services that can go up to $99 a month.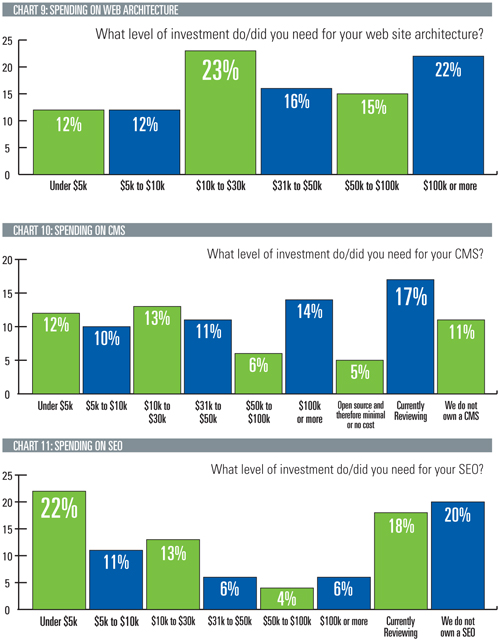 And the expenses don't stop there. According to our respondents, 23 percent say they anticipate spending a very modest $10,000 to $30,000 for Web architecture. But an equal amount—22 percent, said they'll spend more than $100,000. [See chart 9]. Spending on content management systems is all over the map. Twelve percent of respondents spend under $5,000, 11 percent spend between $31,000 and $50,000, and 14 percent spend $100,000 or more. [See chart 10].
Spending on SEO is small, but significant. Twenty-two percent of respondents say they spend under $5,000, with only 6 percent spending more than $100,000. Amazingly, 20 percent said they do not have an SEO program.[See chart 11].
"People underestimate the amount of time it takes to establish and grow a Web presence," Godengo's Sullivan says. "But we are just now starting to see net revenue beginning to creep up" on magazines' online sites.
Publishers must also recognize that their infrastructure investments won't result in overnight profitability. For instance, 42 percent of respondents to the Folio: study indicated that their online operations generate less than $100,000. And two-thirds said their online operations only account for less than 10 percent of their total revenue.
One site that's made a strong (and successful) investment in online is ComputerShopper.com. The site and print product was acquired by SX2 Media Labs, which also publishes College Buying Guide, two years ago from CNET. According to new CEO David Sills, SX2 has already upgraded the site twice. "We spent less than $5,000 on our first online effort" for Computer Shopper, says Josh London, general manager of online for SX2. London says costs for the revamped site were about $50,000, covering a platform that includes product reviews and comparison shopping. Such options don't come cheap. SX2 outsourced its Web needs to E-Z Publish, a CMS company based in Norway. Why? "It requires a real ongoing staff investment," London says. "We thought we could buy it better than build it."
There are still other costs involved in building a Web presence for your print product. "Hosting and systems maintenance is always an evolving animal," London says. London estimates that these ongoing expenses "will cost anywhere from a couple of hundred to a couple of thousand dollars a month."
Meanwhile, at Reni Publishing, IT/circulation director Hook says that as of August 2006, the largely static Web site for Florida Real Estate Journal averaged 750 unique visitors per month. But after some basic tweaks and a software investment of just $1,000, Reni had 50,000 unique visitors by the end of 2007.
The first step was adopting a content management system that was easy for all staffers to use. Hook evaluated 100 different programs before settling on Xigla Software. "Not only is it a CMS but it handles RSS, photos and videos," says Hook. "It's cheap, which is what we needed.
Reni adopted the CMS software, redesigned the site and began uploading its archives. The redesign took place in August 2006 and by November, the site had 3,000 unique visitors per month. In June 2007, the site boasted 15,000 unique visitors and about 100,000 page views and print subscriptions have gone up 20 percent.
Introduction
Section One: Setting Objectives
Section Two: Projecting the Revenue Opportunity
Section Four: Evaluating Staffing Needs and Whether to Hire Within or Outsource
Section Five: Setting a Budget
Section Six: Projecting ROI
Meet the Author
---