Section One: Setting Objectives

When it comes to creating a digital presence for your print title, your future success largely hinges on your planning. It's useful to take a step back and look at the historical pattern (if you can call a 13-year-old phenomenon "historical").
When magazine companies began creating companion Web sites during the initial phase of the digital media conversion trend, many simply transferred the stories that had appeared in print to the Web. That, plus a deep searchable archive, seemed to be enough, and for some publications, it still is the approach. That's so 2003.
For most of the first five years of this decade, publishers talked the talk: They argued that they understood that the Web was a different kind of medium, with different attributes and therefore needed a different content approach. But for the most part, it was just talk. Publishers posted text-oriented traditional stories, and if they hadn't appeared in their magazines, they considered it fresh and different content.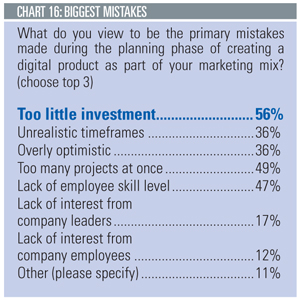 Then, around 2004 and 2005, new concepts finally matured and especially in b-to-b, print publishers began widely using tools like blogs, video, widgets, slideshows, polls, forums, user content, links, and more recently, communities.
So, now, as you're ready to take your site from its early 2000s, 1.0 iteration to the next level, all these factors should be part of your deliberations.
How do you know which model is right for you? And how do you make your magazine's Web site stand out from the crowd—including your competition?
Again, it all comes down to planning. In the FOLIO: research, respondents were asked to identify the primary mistakes they made during the planning phase of creating a next-generation Web operation. Fifty-six percent said that too little investment was the big mistake, but 36 percent said they were too optimistic and tried to work within unrealistic timeframes. [See chart 16]. And asked to name the technologies and features they're most targeting, 67 percent of respondents said video, while 61 said search-engine optimization and 53 percent said they planned to deploy blogs. But the objectives ran the gamut. [See chart 2].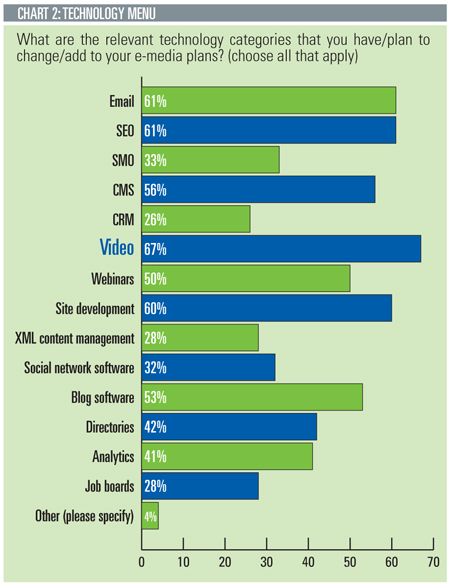 It may be that you're news driven. Maybe you want to be a community hub. Perhaps you want to be edgy with attitude. Or you want to be a cerebral aggregation play. Before you do anything else, before you consider what applications you want, how much you want to spend, how you're going to structure your staff, which outsourced companies you're going to use, and what software solutions you're going to seek, your need to come up with an overall mission. Take a lesson from our respondents, who indicated that they had a range of e-media features and elements they were considering, but that news and e-mail newsletters were overwhelmingly the top priorities. Whether it's these elements or others, those features are the core from which will follow a content-management plan, a personnel strategy and the technologies that will drive the site and go a long way toward the success of your online endeavor. Here are some of the things to consider.
• Think Holistically
A lot of brands might think a redesign means simply refreshing their site's look with minor additional features. But taking a holistic approach when you redesign by evaluating your entire offline and online editorial strategy is the way to go. It may be time to rethink what you offer online versus in the print edition. For instance, a print news story may be complemented online with additional research and reporting, profiles, charts and interactive elements that you may not have space for in the print product. In this way, you're not just repurposing print content on the Web without much thought to the medium and the very different attributes it offers in terms of dynamics and content presentation.
• Make Sure You're Prepared Post Launch
The Web isn't easier just because there is no paper. In fact, it's typically much more complex to manage than a traditional print publication. The deadlines are much shorter than traditional print magazine deadlines, and in some cases are almost real-time. Being able to manage content online, including user-generated content, incoming submissions and questions, managing various Web-based features such as multimedia, Webcasts, directories, and more all requires very well thought-out staffing strategies, leveraging existing print teams and changing/expanding their roles. You also need the technology and technical know-how to get the job done.
• Don't Over-Think Technology
Companies spend a considerable amount of time trying to ensure that everything they build online fits neatly into their existing systems. Oftentimes, the right solution for the Web site might not tie into every internal system perfectly. You need to strike the right balance between speed to market, cost efficiency, updating/site management efficiencies, database sharing and APIs effectively. Don't over-think the technology, spend months doing 'too much' homework and then likely spending far more money than you have to on programs that may save an hour or two of work here and there but overall end up being more complex than it has to be. There are plenty of open source and third-party technologies that offer exceptional content, community and commerce engines/services that are plug-and-play. Consider that 41 percent of our survey respondents indicate that they spent less than $25,000 annually on e-media technology, not including staff. [The complete set of more than 40 charts and tables is included in a comprehensive version of this report, available for order on www.foliomag.com]. Some technologies may not integrate into every aspect of your business, but at the end of the day compelling content and services generate traffic and revenue and those should be the two primary objectives. Find the tool that does what you want the best and most efficient way.
• Comprehensive, Inter-departmental Planning is Essential (Just Like in Print)
Launching a new Web product isn't any different from launching a magazine or offline product. A business plan that incorporates all areas (marketing, content, sales, operations) is needed. In some cases, the Web allows you to think of an idea today and launch it tomorrow for little or no cost. That is a huge benefit and lets you test ideas rapidly and without much risk. But don't ignore the keys to success that make offline businesses successful. Not having a plan about how you are going to manage, market and grow even the smallest Web product before it launches can leave you in a big quandary if it takes off. And keeping a keen eye on the ROI value is also key to ensure you know when to kill a product or adjust it if it's not working.
• Put Paid-Sub Content Up For Free
People love magazines. They're not going anywhere. Put your magazine content online, even at the same time or before the issue hits. It won't have as many pictures and graphs probably, it won't be as portable and you can't take the Web into the bathroom (unless your site has a really good mobile edition, that is). Plus, your site shouldn't be focused on just your magazine content (see the next item). That should just be one small component of an overall strategy that ties to the mission and content of your magazine and expands its depth online by adding multimedia, news, research services, employment services, and much more on the site. Your end-game goal should be to have Web traffic that is likely significantly more than your print circulation. Not all of your visitors will be your targeted demographic, but a good chunk will.
• Print-Magazine Content Online isn't Nearly Enough
This doesn't work. You just end up with a boring site. Yes, maybe some people who are not your readers will find you via search engines, and yes, you'll get some new subscribers or traffic outside of your circulation base. But generally you're never going to make money on the Web this way. The only exception here is if your publication offers a significant amount of research or such compelling content that its value from a subscriber standpoint warrants paying for it online.
• Online Revenue Shouldn't Hurt Print Revenue, It Should Complement and Enhance Print
There are two keys here. First, most likely you'll find an entirely new set of companies outside your traditional advertiser base willing to advertise online. Second, you'll serve your customers better with a successful Web product by giving them even more options to spend money with you and create effective marketing programs.
And if you don't, someone else will. It's not just a catch phrase. It's true. If you are going to lose money to online, shouldn't you lose it to yourself, not your competition? Yes, some advertisers may choose to spend their money in a different medium if it's more effective for them, and you should let them do so. In the end, it's the sales rep's job to give the advertiser the biggest bang for their buck, whatever the medium. If you are creative in how you package print and Web, you can gain market share and actually increase print revenue too (or at least hold it steady) while at the same time taking dollars from your competitors for advertisers to spend online with you.
• Be Wary of Incorrectly Defining the Competitive Set
We've seen a lot of publishers spending a lot of time worrying about what their print competition is doing online, or only looking at what their traditional print competitors are doing and basing strategic decisions on that. The fact is the Web makes it easy for almost anyone to create a Web site, a popular blog, a neat little search tool, an aggregation site or a community for a particular niche. Don't ignore these people. They can be your greatest threat—or your greatest allies. Even if they are not making money—if they've got the traffic you want, it still could take away from your Web products. Embrace these online competitors and try to get them in the mix, through acquisitions, partnerships, whatever it takes. Especially for smaller and mid-size publishers, some individual guy's blog may be getting more traffic than your entire site.
• Your Greatest Asset, Even Online, Is Your Subscriber Base
If you elect to rely solely on your in-house editors to know what your industry needs online, you're not using a key intelligence source. In a lot of cases in-house editors may be consumed by their day-to-day duties and either ignore what readers really want, or assume they already know. Query your audience—use the phone, e-mail, surveys, whatever it takes. Oftentimes you'll get great ideas right from the audience. And depending on the size of the survey, you may see the same responses repeated, reinforcing ideas you already had, or giving you new ones you hadn't thought about.
Introduction
Section Two: Projecting the Revenue Opportunity
Section Three: Evaluating the Applications, Features and Software You Need
Section Four: Evaluating Staffing Needs and Whether to Hire Within or Outsource
Section Five: Setting a Budget
Section Six: Projecting ROI
Meet the Author
---