Section Four: Evaluating Staffing Needs and Whether to Hire Within or Outsource

While planning is probably the most crucial step necessary prior to launch, the staff—edit, design, project management, sales, Web development—you hire or retrain for your magazine's online property is nearly as critical. Keep in mind that it is not just the content, but also the overall look and feel of the site—including graphics, structure and features—that will help lure viewers and keep them coming back for more. And, the people you entrust to generate revenue from this new product will be equally essential to the success of your online business.
FOLIO: spoke with a number of publishers and consultants for their insights on what it takes to properly staff and launch a next-generation digital initiative. The consensus: Getting the ad sales and editorial leaders onboard early was seen as an imperative to most publishers.
"The editor of the magazine—the top content person—and the top salesperson should be the first two to get involved because you have to have a user experience well defined, and concrete plans to monetize that," says industry consultant Bob Cohen.
He also notes that some companies try to scrimp by simply adding digital responsibilities to the workload of print staffers. "It may just be an illusion on the part of senior leaders that online is enough like a magazine, a brand extension, that it can be financially low-cost to have people do double-duty. But the Web is an interactive medium, not meant to contain static elements," Cohen says.
Many companies, including Hanley Wood, have adopted a policy where they "seed" their existing staffs—sales or edit—with an e-media point person, responsible to the overall chief of the department, but given wide autonomy to manage the e-media operation. Cohen adds that the fluidity of the Web means constant oversight is a must. "Every platform needs to have an 'owner,' he says. "Many publishers are not sophisticated about the Web. They're not facing the necessity of having someone 'own' the site."
Existing print staff, sales and editorial, may have to take on new responsibilities. "Everyone needs to understand that their job is changing," says Penton Media digital-media director Prescott Shibles. "You need to think of a digital venture as a core leg of your business to make it effective. A lot of time needs to be spent on examining workflow to take advantage of the Web, versus workflow that thinks print first, then the Web second."
And at Penton, Shibles practices what he preaches. "I strongly believe that if you have good people, they're good people no matter whether it's print or online. You need to develop a culture of trial and error, where people are incentivized to learn," he says. "Google tells its staff to spend 15 percent of their time not on their job. You need to create a culture of learning."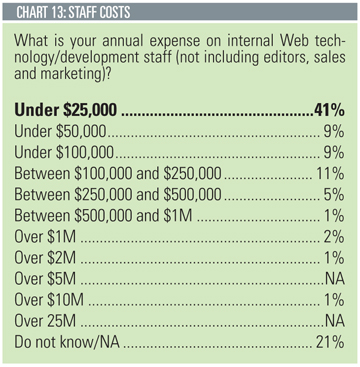 But such efforts don't come easily, Shibles says. "On the editorial side, you might have old school hard-line journalists, who believe writing for the Web is watering down their craft; you also might have others who are willing to experiment, but get heat from the old-line guys." It's an issue that needs to be tackled head-on.
"If you can't get through to the people who don't get it, who are digging in their heels, you have to recognize that this is an issue," he says. "Educate them; let them know that if they continue, this is going to be a career-limiting pattern of behavior."
Until recently, Andrew Hersam was vice president and publishing director for the Runner's World Media Group at Rodale Inc. Its Web site has a strong, loyal following of readers. Hersam estimates that 40 percent of the site's traffic goes directly to its forum section, where runners can discuss issues such as training, nutrition, running gear and more. And Hersam knows how critical it is to get your writers onboard your digital effort.
"If a writer wants to be a solely 'print person,' then they're going to go by the wayside," he says. "The best people are fired up by the opportunities digital presents. They understand excellence on any platform." And that type of thinking at Rodale extended to the sales force as well, Hersam says. "What we did at Rodale two years ago was we decentralized our online properties," he says. That meant knocking down the walls that existed between print salespeople and their counterparts on the online side. "All salespeople sold all product. The transition from selling print-only to print and online was rapid. Our sellers jumped on the opportunity."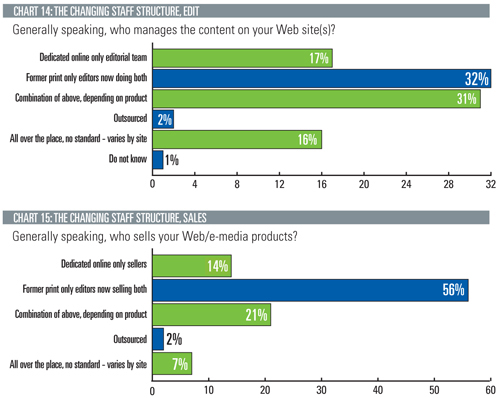 And was it successful? "We were ecstatic," Hersam says. "We were doing about 20 percent of our revenue online, while we estimate the industry standard is about 10 percent."
Staffers also need to understand that their new online responsibilities will likely mean a new job title that will reflect the broader digital medium. For instance, circulation directors are increasingly being called the "consumer audience marketers," and writers are now commonly called "content providers," says Greg Jones, industry consultant and owner of Granite Bay Media in Roseville, California.
While editors don't necessarily need special online training, they do need to look at Web stories from a different angle, says Jones. "Editors do need to be trained to be search engine optimization-friendly," he says. "They need to think about deadlines and the size of content" in a way that's different from the print world, he notes. In other words, editors need to understand how the search engines index content, and how people search for content, and write clear, crisp, literal headlines that support that process, not impede it. They need to tag stories appropriately, so a search that discovers one piece of content can easily be leveraged to find similar content.
That SEO skillset was a big consideration for small b-to-b niche publisher Vicon Publishing, based in Amherst, New Hampshire. The company publishes four print magazines, all with a digital component. "We needed someone who knew about online SEO, Web design, and newsletter design," among other skills, says editorial director Patrice Galvin, who adds that Vicon ended up hiring a Web manager to oversee its e-business. Asked about other new must-have skills, Galvin acknowledges that for some staffers, the basic talents still apply. "On the editorial side, we need someone who can write and knows editing well."
While these basic skillsets may be sought-after, publishers are also looking for applicants with knowledge of today's software programs and technologies, such as content tagging, working in a CMS, conducting, editing and posting video interviews, and more. For this reason, many publishers look beyond the publishing industry for dot-com hires. According to the FOLIO: study, 53 percent of respondents said they look outside the publishing industry to find qualified e-media staffers.
And if you can't find what you need in-house, outsourcing might be the next logical step. Bill Walker, president of Integrated Media Cooperative, a group of 14 independent magazine publishers that look for efficiencies on the cost side, weighed in on the idea: "Does a publisher need to be an expert on search-engine marketing, Webinar development, database management, or software selection? Having a full-time person or department charged with figuring out and managing all those individual non-core areas would expand the publisher's staff enormously. Instead, publishers outsource those functions to experts who have created successful businesses doing those jobs."
And Dan Waggenheim, vice president of operations and media products for TechTarget, which publishes integrated media for IT professionals, agrees. "Some of our clients require custom reporting, and our outsourcer provides reports in various formats. Otherwise, our people would have to take time away from their primary jobs to create the customized reports. Custom reporting has made us very competitive in our industry."
Before looking for an outsourcer partner, the publisher should take these essential first steps:
1. Define your core competency.
2. Decide which core business activities must be done in-house.
3. Determine which non-core services might be fulfilled outside.
Many non-core services that are candidates for outsourcing involve client contact and affect the brand, so a careful evaluation of any outsourcing partner is crucial. Look for a solid, experienced outsourcing partner whose capabilities and strengths complement your core competency—a vendor who can best fulfill the non-core tasks that you require.
The FOLIO: survey reveals a whole host of fascinating data on this topic. For example, 58 percent of respondents said that their entire dedicated Web staff is between one and four people. Fourteen percent of respondents said their dedicated Web staff was between five and nine people, and 9 percent indicated a staff of 10 to 19 people. In a related question, survey participants were asked to indicate the annual expense on internal Web development and technology staff, not including edit, sales and marketing. Forty-one percent of respondents said the number was under $25,000, which is seemingly less than a single salary, meaning their staffer has responsibilities that are allocated elsewhere. Eleven percent said the expense was between $100,000 and $250,000, which seems more in line with what the cost ought to be. [See chart 13].
Our respondents also reported that on both the sales and edit sides, former print-only staffers are now doing both. Among the edit staff, 32 percent of respondents say editors now work both in the print and online domains. And a noteworthy percentage—17 percent—says they have dedicated Web staffs. [See chart 14].
Asked the corresponding question on the sales side and 56 percent of respondents said that former print-only sellers are now doing both. [See chart 15].
Technology services is definitely an area where you'd think publishing companies would outsource services like development and programming, SEO and design, but our respondents indicate that more often than not, that stays in house. The only area where our respondents say they went outside more often than in-house is in hosting, where 63 percent of respondents say they go outside for that service. "In my experience, about two-thirds of my clients are using outside hosting, so that ties pretty well with your survey stats," says Granite Bay Media's Greg Jones. But that might not be the best idea, he adds. "I believe most publishers would prefer to stay in-house in order to maintain greater control, and lower their costs over the long run," Jones says. "However, I believe the reason that the majority choose outside hosting services is due to a lack of in-house expertise, or sometimes—to be blunt—a lack of confidence in their in-house expertise. Good IT talent is both hard to find and expensive."
Rent Versus Buy
And there are other forces at work as well. "Another decision factor I have heard is the concern that with the fast pace of change in technology, making an investment to set up an in-house system is risky," Jones says. "It's much easier to upgrade from a rented service than it is to throw away large in-house investments that may not have yet been fully amortized."
And just as our survey respondents are expecting a significant revenue gain over the next three years, they are staffing up accordingly. Fifty-five percent indicate that they've already added between one and five staffers, and another 13 percent said the number is from five to 10. A full 11 percent have added 10 or more e-media staffers, reflecting a major investment. And looking forward, the respondents are equally bullish. They indicate similar staff increases over the next year. Correspondingly, survey respondents are increasing their staff investments, with 51 percent expecting to spend $100,000 or more in the 2008-2009 period.
Introduction
Section One: Setting Objectives
Section Two: Projecting the Revenue Opportunity
Section Three: Evaluating the Applications, Features and Software You Need
Section Five: Setting a Budget
Section Six: Projecting ROI
Meet the Author
---