Section Five: Setting a Budget

Budgeting obviously is a crucial part of taking your Web site to the next level. As noted earlier, the results of the FOLIO: research report reveal that more than half of the magazine-industry professionals surveyed (56 percent) cited "too little investment" as the biggest mistake most commonly made during the planning stage of creating a digital product. [See chart 16].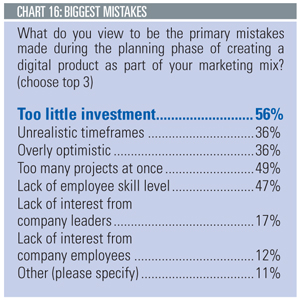 How Much is Too Little?
For instance, the report showed that 31 percent of survey respondents spent between $31,000 and $100,000 on their Web site architecture; another 22 percent spent more than $100,000 on theirs. In addition, 35 percent of respondents said they invested $30,000 or less on their content management system; 17 percent spent between $31,000 and $100,000; 14 percent spent more than $100,000 on their CMS.
The least expensive element of launching a Web site seems to be in selecting a search engine optimization program (this can be outsourced or done in house.) According to the study, 22 percent of respondents spent less than $5,000 on their SEO; 24 percent spent between $5,000 and $30,000. None of these figures, however, account for staffing expenses.
"Costs can vary greatly, and there is a pretty large time expenditure involved in going digital," says Franz Maruna, CEO of Portland, Oregon-based open-source Web site developer ConcreteCMS.com, which helps small magazines. "The software setup and actual building out of the Web site can be done in two to three months, but it takes a lot of organization."
His colleague, developer Ryan Tyler, echoes that view. "You can get a neighbor's kid to build your Web site for five grand," he says. "But a real, serious media property can easily spend fifty to one hundred grand just to get started, plus they'll have to add on a tech department. To do it right is not especially cheap," he adds. There is also the difficulty of dealing with clients who feel they "just need to get something up there," Maruna says. He relates the story of one social-media site he declined to name, that used an off-the-shelf CMS, but suddenly experienced explosive growth. "There was a moment where they had a lot of traffic and no back-end to support it," he recalls.
And it's tough to nail down a specific dollars-and-cents figure of the costs involved. "There are so many different ways to do this, it's difficult to say" [what it would cost], Tyler says. "Be wary of anyone who says it will cost less than twenty grand."
But there are ways to save on expenses. "Open source is a good way to go, because you're not married to one group of people," Tyler says. "You also have the advantage of those developing code for free."
Yet a dedicated staffer might be a wise investment. "You'll need help building it and running it—you'll need someone to run the project," Maruna says. "This can be an employee or a freelancer. It's difficult to succeed unless there is someone to talk with on a day-to-day basis. You need someone to 'own' the Web site."
Introduction
Section One: Setting Objectives
Section Two: Projecting the Revenue Opportunity
Section Three: Evaluating the Applications, Features and Software You Need
Section Four: Evaluating Staffing Needs and Whether to Hire Within or Outsource
Section Six: Projecting ROI
Meet the Author
---