As the Editorial Director for The Saturday Evening Post, I was eagerly awaiting our prescription from Cable Neuhaus ("The Magazine Medic," 1/19/12). Everyone needs a doctor, and, as most magazines will tell you, regular checkups are highly advised.
Imagine my disappointment, then, to find we'd been subject to review by a Death Panel.
I'll grant you that the patient Mr. Neuhaus describes is in a vegetative state. The problem is, he examined the wrong patient.
Did The Magazine Medic check the wristband before he checked the pulse? Yes, the Post is famous for making Norman Rockwell a household word. But it is inaccurate to describe today's Post as "an odd-lot collection of content wrapped around a catalog pedaling the work of a beloved master."
Seriously? In any given issue, there is one page devoted to Norman Rockwell.
After doing some consulting for the publication in the past year, I just signed on fulltime at the Post in January. I like to think of myself as something of a magazine doctor, too. When I went to Modern Maturity to be the editor in 2000, it had a large DNR label across the logo that you didn't have to squint very hard to see. As AARP The Magazine, it's doing rather well nowadays. And, if you want to talk about DOA, Men's Health, where I started as managing editor, was about the worst idea for a magazine anyone could think of. Men, caring about their health? In 1990, no one gave that concept a chance beyond the then-crunchy-granola Rodale Press.

I believe, in the near future, The Magazine Medic will find that the Post has returned to robust health, just as these once-moribund publications did. Or to paraphrase Mark Twain, rumors of our impending demise have been greatly exaggerated.
Today's Post is far from a catalogue. We cover the world of ideas (from the military to education to national policy), medical research, and art—as well as travel, tech, and personal finance. We run an original short story in each issue. We also present the occasional wildcard, such as our recent celebration of the 50th anniversary of James Bond. If there's one overriding approach, it is to put an historical perspective on current events and trends. This is something we feel uniquely qualified to do as the longest-running magazine in publication today.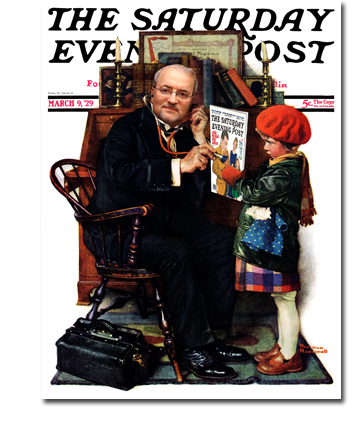 And, yes, we love our Norman Rockwell. Incidentally, in our gallery, we chanced upon a Rockwell canvas that bears a striking resemblance to Mr. Neuhaus. See image at right.
Sincerely,
Steven Slon
Editorial Director
The Saturday Evening Post
UPDATE:

The Magazine Medic Responds To Slon
Don't you just love when physicians joust? It hardly ever happens, not in public at least, so I was delighted to hear from Steve Slon, who is setting out to resuscitate the venerable, albeit worn, Saturday Evening Post.
First, let me say that "Doc" Slon has as good a chance as anyone of succeeding in this worthy undertaking. He comes armed with the right pedigree and, obviously, a tremendous will. All most admirable.  
However: Wish it weren't so, but rarely can a skillful editor alone produce rosy cheeks where a palor has already set in; it requires as well a large quantity of plasma (aka cash). How else to hire great sales and circ staffs, an amazing art director, plus all the other team members that must cluster around an elderly patient for perhaps a protracted period of time? Now that Steve has been secured, will The Post's publisher go all in?        
In this market (depressed) and in The Post's competitive set (crowded), it's hard to break through, let alone reanimate a patient whose pulse is perceived to be weak. As I think Steve was acknowledging, if I read him right, his magazine is not exactly rocking and rolling right now; the promise is in what's coming.
My editorial vision for The Saturday Evening Post, as briefly set forth in the Jan./Feb. issue of Folio:, calls for the magazine to go backward, in a sense, which I think it can do—and where it might find a small but sustainable air pocket. Steve's vision is grander. It's forward-looking and noble, but will be far harder to bring off. Naturally, I wish him well. What a wonderful thing if he and his cohorts can take the magazine that made Norman Rockwell a household name and once again put it at the center of national conversation.  
I'm skeptical, but ready to be proven wrong.  
In the "near future," to take up Steve's call, let's see if The Saturday Evening Post has been editorially reinvented and, importantly, made more robust in every way. Give it a year. I'll gladly do a re-examination at that time. No charge.  
Now, as to the Post cover on which I appeared way back in March of 1929, I can't imagine how that was fetched from some dust-covered archive, but I had long ago forgotten about it. Remember, I was just an over-worked medical intern at the time and not thinking about where my career might eventually lead. Who knew I'd still be attending to patients all these years later?      
Cable Neuhaus
"The Magazine Medic"
P.S.:  In the interest of full disclosure, I should note that I wrote several pieces, including a cover story, for AARP—The Magazine while Steve Slon was editor there. But I don't recall that we ever had any direct interaction.