Sean Nolan

VP, online operations and external online marketing, Rodale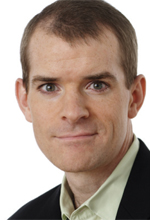 Nolan is behind Rodale's successful iPhone app factory, which garners thousands of downloads each month.
Since joining Rodale (first as a consultant in 2002, then full-time in 2005), Sean Nolan has been heavily involved in numerous projects both on- and offline, including the launch of Women's Health and the aggressive build-out of MensHealth.com, which was a part of the company's new brand-driven digital approach at the time. But more recently, his focus has been on getting the company's content to its customers in all appropriate formats. In 2009, he started collaborating with various Rodale brands to develop approximately 30 iPhone apps.
Men's Health- and Women's Health-branded apps have surpassed 600,000 downloads alone and the "Eat This, Not That!" app became the most downloaded app in the Healthcare & Fitness category within Apple's iTunes store just three weeks after its launch. Rodale's current portfolio of apps also includes Men's Health's Jimmy the Bartender, the Runner's World "Shoe Shop" app, and Prevention's "400 Calorie Fix."
"Digital content distribution is something Rodale is passionate about," Nolan says. "Our brands and our content are well suited for a wide variety of formats, and ever-wider distribution channels. We really do wake up every day excited about that amazing, fast-moving opportunity we're living right now to extend our brands and content to current or new audiences—where, when and how they want our content."
Nolan added that while the magazine industry continues to go through hard times, it will continue to adapt and survive. "It's not going away," he says. "The industry has changed rapidly in just the last five years, which is a sign in and of itself. There's been a collective realization that media is changing, audiences are fragmenting, information is exploding, formats and distribution channels are multiplying, and all of that is an enormous opportunity for the people with the best content. Premium content constituency includes the magazine industry."
VITAL STATS: Rodale is one of the publishers leading the pack when it comes to creating a presence on the iPhone. There are approximately 30 Rodale-branded apps currently available to iPhone owners. 
BACK TO THE 2010 FOLIO: 40 MAIN PAGE 
Meet the Author
---