Scott Vaughan

VP marketing, InformationWeek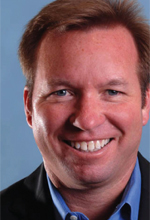 Under Vaughan's direction, InformationWeek had one of its biggest years in terms of virtual event attendance.
For the past eight years, Scott Vaughan has had his hands in all three of TechWeb's core businesses: its marketing services business, where the company assists marketing clients with their lead-gen efforts, its traditional media business and its new paid information service, which creates and markets various paid products for its core audience.
Virtual events have played a big role in all three core businesses and in 2009 InformationWeek had one of its biggest years in terms of attendance. Under Vaughan, the brand presented 18 virtual events last year with over 2,000 registrants attending each event, surpassing its attendance goals by 140 percent.
"In the 1990's, when print publications went onto the Web, they basically took their magazines and pasted the same content onto their sites," he says. "That's pretty much what happened with virtual events in the early 2000s. But since then, technology has advanced, and in 2008, we decided to approach virtual events in a committed way. Each one had to meet certain standards."
Those standards include providing high-valued content and allowing attendees to listen to experts, download information, contact vendors and connect with others. The content also has to be delivered to the right audience. "That's more than just understanding standard demographics," he says. "If we know a group of readers are attending Webcasts and downloading whitepapers on security, we can target that audience."
The third component is customizing the user experience. "The ability to learn, interact and absorb information can be affected by environment," he says. "So we customized it depending on the topic of the event."
On average, attendees of IW's virtual events in 2009 spent 2 hours and 13 minutes per event and over 900 content clicks and 205 downloads per booth per event were recorded. Compared to 2008, the brand's average revenue per virtual event grew by 16 percent in 2009, and virtual events rank in the middle when compared to the company's live events and other products.
VITAL STATS: After attracting over 2,000 registrants with 18 virtual events last year, InformationWeek has 24 virtual events planned for 2010.
BACK TO THE 2010 FOLIO: 40 MAIN PAGE 
Meet the Author
---