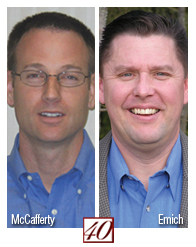 Scott McCafferty and Mike Emich were both former Penton sales reps with their own independent sales rep firms. But each had the itch to get back into the publishing side. In January 2006, McCafferty and Emich started putting together a business plan for WTWH, which stands for "Willing to Work Harder." "We worked with $200,000 cash until we established a line of credit for $1 million," says McCafferty.
WTWH's initial launch, 40,000-circ Design World, debuted in October 2006, generating $245,000 and locking in major accounts for 2007. Online, WTWH hired a former advertising client who had expressed frustration with the way publishers do business online as vice president of new media. "We began offering e-newsletters and online ads immediately but quickly found that simply launching a Web site doesn't mean you will have traffic," says McCafferty.
WTWH builds landing pages with customizable widgets pulling feeds out of manufacturers' sites that can tie in with relevant edit and video. "People weren't doing that yet," says McCafferty. "We're perceived as the so-called 'smart online guys.'"
In June 2007, WTWH bought 3DCAD World Network, a series of registration-based sites, and just before the end of 2007 closed on mcadcentral.com. WTWH got an additional boost when Hearst's Electronic Products tapped the startup as a partner in a project called Mechatronics, which features a quarterly print product, a Wiki site, blogs and e-mail newsletters.
In 2008, the company will continue to leverage its mix of print and online products, including a new offering called Digital Manufacturing Review, and expects to generate about $3.5 million in revenue.
VITAL STATS: WTWH generated $1.8 million in 2007, its first full year of operation and expects to generate $3.5 million in 2008.