Scott Galloway

Founder and CEO, L2 Think Tank, creators of the Digital IQ Index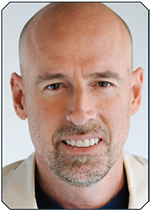 The L2 Digital Think Tank is bringing to the forefront the value of digital competency, and the magazines that do it best.
"Our mission is to increase the Digital IQ of our member brands," says Galloway. "We're trying to establish the Digital IQ Index as the seminal benchmark globally for measuring a brand's digital competence. The Digital IQ Index is now a static part of performance reviews for several companies. If you're a digital manager at a large brand, there's a chance the Digital IQ Index is included in your performance review. It's now incorporated into key metrics at organizations."
L2 measures the digital aptitude and ad revenue-per-page of 87 magazine brands and is putting a spotlight on the value of this proficiency. At the MPA's American Magazine Conference in late 2011, he drove home his point to the industry: If Burberry gains 13 to 15 million Facebook fans over the next few years, somewhere between one-third and two-thirds of people that subscribe to Vogue will already have a relationship with Burberry.
"Will they spend more, less or the same to advertise?" he asked the audience.
L2 aims to collect more digital data and make it more actionable than any firm has previously done. In July, L2 released the Digital IQ Index for magazines and found that of the 87 titles ranked, 37 percent were considered "gifted," 30 percent were "average" and 24 percent were considered "challenged." Only 1 percent of the brands (TIME) were considered "gifted" and 8 percent were considered "feeble."
"Our call sign is Digital IQ=shareholder value," he says. "For the print industry, the winners will be brands that embrace the future. The current focus is protecting legacy assets. The good news is, with great brands, smart people and a lot of capital, there's nothing wrong with the magazine industry that can't be fixed with what's right with it."
VITAL STATS: L2 Digital Think Tank events are now considered, Galloway says, the largest gathering of prestige 100 executives in the world. In the two years since this group's launch, attendance at the group's clinics, forums and seminars have doubled, with attendance increasing to 100-400 people at every event.
Meet the Author
---