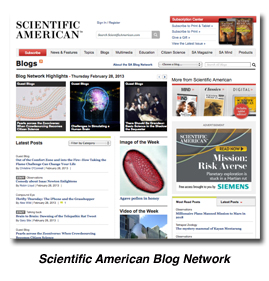 Founded in 1845, Scientific American is one of the oldest continuously published magazines in the United States and the brand has been working to extend its authority online through a variety of digital channels.
In January 2013 the magazine set a new personal record for monthly unique visitors, reaching an average of 5.4 million last month. According to the title, changes in its digital editorial strategy, including more mobile and blog network offerings, are behind the 127 percent increase in traffic over the past two years.
Growth of the Scientific American Blog Network, which officially launched in July 2011, has paid off for the brand. The network accounted for 25 percent of visits and 20 percent of pageviews to ScientificAmerican.com in January 2013—a bump from the traffic it saw in January 2012, when the blog network accounted for 22 percent of visits and 16 percent of pageviews. The Scientific American Blog Network increased the number of its specific blogs from 47 to 56.
Mobile visits are also up—by December 2012, 26 percent of visits came from mobile devices—an increase of 3.2 percent year-over-year. ScientificAmerican.com also saw an increase in the number of unique visitors from 2011 by 31 percent or 3.9 million in 2012.
Digital content sales have increased by 36 percent overall in 2012 when comparing 2011 and, for 2012, 20 percent of all new subscriptions sold were done so through ScientificAmerican.com, and on continuous renewal. Since Scientific American launched on the iPad in July, more than 3,100 app subscriptions have been sold through iTunes, in addition to almost 4,000 single issues.
January 2013 had a new high in referral traffic, with 2.1 million direct referrals. Additionally, referrals from organic search topped 2.39 million in January 2013. Twitter followers have increased to more than 500,000, driving 5.21 percent of direct traffic, and the Scientific American Google+ page has garnered 91,000 followers.