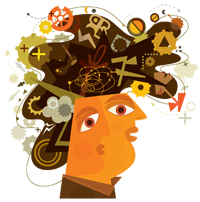 Publishers have come a long way in a short time with building their digital magazines, now stuffed with an impressive array of vivid and interactive media. Sales for many are also on an upward trajectory. However, one of the most fundamental elements of the digital magazine business—managing customer, subscription and single-copy sales data—is, in most cases, depressingly, woefully behind the times. And there's not much help coming from the digital storefronts and newsstands that collect the data.
The battle and trade-offs over digital magazine customer data have been well publicized. But along with that, publishers have also run into a frustratingly complex and labor-intensive back-end data management nightmare that belies the digital nature of this corner of the business.
Raw Data, Raw Nerves
At best, publishers have to wrestle huge amounts of raw sales data into Excel files—data that arrives from third-party digital newsstands such as Amazon, Apple, Barnes & Noble and Zinio, at different frequencies. With the exception of Zinio, none of the data is linked to existing fulfillment house operations and none of it benefits from any kind of automated management process. [For its part, Zinio also offers a handy data dashboard where publishers can track some sales and customer information.] At worst, sales data arrives so late and unattached to any specific issue or customer information that publishers are essentially guessing at specific allocations. 
And for a publishing discipline that is only as successful as it is accurate, that's not a good thing.
"The challenges are more than just the challenges for marketing," says Elaine Spencer, director of consumer marketing for Harvard Business Review. "We work with Apple, Zinio, Amazon, Barnes & Noble, Sony and Kobo. We have all these relationships and some of them provide consistent data, but it's not typically received on a consistent basis."
Some of the data are received as Excel spreadsheets, some arrive in a csv file, but all of it requires hours of labor-intensive processing to massage it into reports and none of it is standardized. Simply put: "The problem is we get totally different kinds of information and metrics from every vendor on different time scales, measured differently," says Bob Cohn, consumer marketing director at Bonnier Corp.
Apple, for example, provides weekly reports on single-copy sales. "But it's still very manual with Excel spreadsheets and very labor intensive," says Cohn.
And trend data is difficult to glean as well. "What we're finding out is it's not especially easy to get monthly trends out of that data," says Nick Ireland, marketing manager at Premier Media Holdings, which publishes Premier Guitar. "We realize that's an important place to be, so we're spending a great deal of time on it, but it's difficult to identify macro trends."
Issue-By-Issue Data? Forget it.
The Barnes & Noble nook reporting also comes in weekly. It's a very simple spreadsheet that lists current, active subscribers with the cumulative number of single-copy sales, but the sales are not identified by issue. Cohn's team literally has to look at the previous month's report, do some subtraction and then assume the remaining sales belong to the current issue.
Amazon provides even less information. "It's like having a blindfold over your eyes compared to traditional circulation measurement," says Cohn.
So far, publishers are coping simply by breaking out the reporting across various team members. Cohn has tried to create an aggregate report that pulls together all of the data across the newsstand providers, but has had limited success. "We know it's not accurate and it's a pain in the neck to do."
Financial reporting is another headache. The storefronts remit at different times, some send a check, others transfer to a bank account. "Sometimes the payment is not coupled with the correct reporting, which makes it a challenge to tie back to what was remitted, but also what we sold in a given month," says Spencer.
All of this has hardly deterred publishers, which are largely making do for now, as Premier Guitar's Ireland noted, because tablet editions have become a must-do strategy. But for some that have yet to debut a full digital version of their brand, it's a frustrating barrier to entry. "There's just this incredible barrier to being able to approach this print-digital issue with any kind of logic," says Greg Krehbiel, director of marketing operations at Kiplinger Washington Editors. "We don't have the systems to do it and we don't have the data to do it."
Solutions on the Way
That's not to say that service providers aren't aware of the problem. In the absence of any short-term help coming from the bigger newsstand providers like Amazon and Apple, which clearly have other priorities to deal with, fulfillment vendors are stepping into the void. This makes sense, given their management of everything consumer and sales-oriented for most of the other products produced by publishers. This time, however, there's another significant player involved that has its own business interests in the data, making facilitation a more difficult proposition.
Hearst-owned CDS Global, for example, aims to collect sales and subscription data from all of the digital newsstand providers, standardize it, provide sales and revenue recognition and track it. However, Barnes & Noble is so far the only partner working with the system, currently in beta. CDS expects a fully functional rollout by the third or fourth quarter.
Likewise Palm Coast Data has released a digital entitlements system that manages print and digital bundle sales and subscriptions, as well as the customer data attached to those. This also frees up the publisher to more accurately promote these packages.