Anyone who has worked in b-to-b publishing during the last decade could surely be forgiven for thinking that they have—without a doubt—lived through the most disruptive period our industry has ever seen.
But while the arrival of the Internet, and the need to migrate traditional print publishing models to online businesses, is certainly a non-trivial and ongoing battle, I am afraid I'm the bearer of bad news: The shift from print to Web is not going to be nearly as disruptive or potentially damaging as the next big mega-trend just beginning to hit b-to-b publishing (no, it's not Twitter).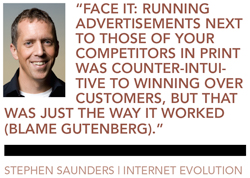 I'm talking about the rapidly growing movement for major advertisers (kingmaker accounts with seven- and eight-figure marketing budgets) to build their own sites and stock them with quasi authoritative information rather than placing ads with the "traditional" sites run by independent publishers to cover vertical industries.
Deep Pockets, Rich Content
This is a logical extension of the blogging phenomenon that took off like a kitten taped to a rocket in 2004. The big difference is that blogging was a grassroots, consumer-driven trend—part of the new "information entitlement," where regular folks not only felt entitled to their opinions, but also to self-publish for free to the entire universe. And of course, the value of most consumer blogs is figuratively and literally zero.
In contrast, when mega-corps like Pfizer and Microsoft start self-publishing, we're talking about big business, big buckets of content, and big bucks. Early examples are popping up with increasing frequency: In the pharmaceuticals industry, check out Merck's univadis.com (which cost more than $100 million, according to industry scuttlebutt); in automotive look at thefordstory.com; in the communications visit blogs.sun.com/jonathan—a blog by Sun CEO Jonathan Schwartz; or in energy/greentech look at PG&E's next100.com or GE's ge.ecomagination.com.
Why are advertisers increasingly unwilling to do what they've done in the past and pay good money to run their ads in rotation with those of their competitors on third-party sites? Face it: Running advertisements next to those of your competitors in print was counter-intuitive to winning over customers. But that was the way it worked (blame Gutenberg). Carrying over that same model to the Web makes no sense at all.
Advertisers don't just want "share of voice"; when it comes to their core messaging (and customer reach) they want to be the only voice—and the Web provides them with the freedom to put up their own exclusive sites.
A Golden Opportunity for Publishers
Until recently most advertisers have had two choices when it comes to self-publishing: They can do it in house (Pros: relatively cheap. Cons: acts as a distraction to core business and results in a site stocked with rubbish content); or they can hire an agency to do it for them (Pros: less distracting, better looking. Cons: costs a fortune).
But now door number three has appeared, as incumbent publishers begin to offer the requisite suite of marketing services to help advertisers build their sites. And these publishers have one HUGE unique selling point over the agencies and the advertisers themselves: They are still the only ones who can provide the independent, authoritative analysis that gives self-published sites credibility and keeps Web users coming back.
One of my clients, United Business Media, has grown its marketing services business from 5 percent of its annual revenues 10 years ago to 25 percent today. My guess is that the percentage will be over 50 within a few years. Money will come from products like internetevolution.com—an experimental b-to-b social network supported exclusively by IBM.
For b-to-b publishers, this self-publishing trend could represent a potential gold mine (two, in fact, since it allows them to tap both advertising and corporate marketing budgets with their clients)—but only if they are prepared to continue investing in generating proprietary content, and learn the new skill set required to offer fully integrated marketing services. For those that are not, it's the end of the information superhighway.
Stephen Saunders is an independent media consultant and the founder of Internet Evolution.