Say Media Redesigns ReadWrite, Intros New 'Adaptive Ads'

This week's relaunch the second iteration of responsive design site.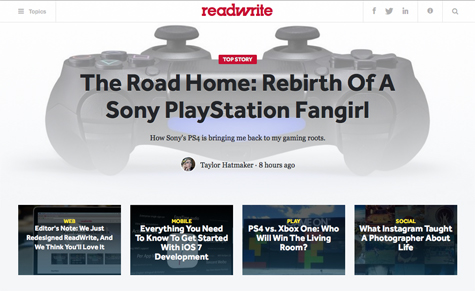 Tech blog ReadWrite this week debuted a new version of its responsive design site it launched last fall. The new design is a next step in the evolutionary process ReadWrite and other sites like it have been going through now that mobile is such a huge traffic driver.
Two big motivators for the new design were both editorial and business-related. Mobile-sourced traffic is now 35 percent of the total and last fall's relaunch was considered the first step in ongoing development influenced by changes in traffic and engagement patterns. 
"The feeling was that last fall was a half-step," says ReadWrite editor-in-chief Owen Thomas. "That's not at all a ding, but it's a reality that when you're taking an audience along with you on a big change like this you don't want to overwhelm them. You also want to have a very defined change so you can test your theses."
Along with faster load times and easier sharing, editors, working in Say Media's proprietary Tempest media platform, can now work with three different content templates depending on the type of story they're developing.
"Shorts," or news briefs, have no lead image or deck and are quick, short reads. "Standard" stories, 300-700 words in length, make up the bulk of the content and include a head and deck and a variety of image placement choices. Lastly, "Feature" templates are introduced by a full-width image at the top of the item, with the head, deck and byline knocked out within it.
The content templates are as much driven by simplifying the production process as reacting to the realities of responsive design. The formatting options allow editors the flexibility to create their content in a way that fits in multiple viewing orientations.
The redesign also features new advertising choices Say Media has dubbed Adaptive Ads. As of now there are two formats: Adaptive Fullscreen and Adaptive Stripe. Both run in-line with the story, with Siemens as the debut sponsor.
The ads, says Thomas, bring the site closer to a magazine experience. "No one accuses magazine ads of being interruptive," he says. "I feel like we're getting closer to that magazine concept as a fluid reading experience. The trick is how you combine that with mobile. You shouldn't have to dumb down or change the ads. It's the same reader switching between platforms, why show me a different ad?"
Meet the Author
---