Say Media Rebrands ReadWriteWeb as ReadWrite

Site relaunches with responsive design platform, new top editor.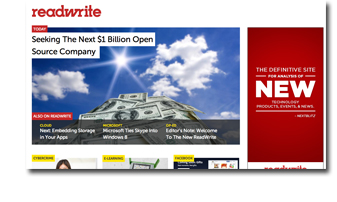 Say Media, which operates a number of digital properties across fashion, technology, food and living verticals, has rebranded the web trends and tech reporting site ReadWriteWeb to the shorter ReadWrite. The site has also hired Dan Lyons as its new editor-in-chief. Lyons was previously a columnist for Newsweek and was responsible for the Fake Steve Jobs blog.
The rebranding comes about 10 months after Say Media bought the site and includes a new tablet-first, responsive design built on a proprietary CMS called Orion.
Lyons replaces founding editor Richard MacManus who started the site from New Zealand in 2003 and left mid-October to begin work on a book.  
In an introductory editor's note, Lyons says the new name reflects a broader focus: "As for our new name, the rationale for the change is pretty simple. Technology has evolved beyond the Web, and we're adapting to keep up with the changing digital media landscape."
In his note, Lyons adds that coverage will double down on mobile: "Mobile devices combined with social networks are evolving into a new mass medium that will displace television and define our age."
Content will also be contributed by a growing base of writers, including readers, says the company.
Meet the Author
---