Say Media Launches Content and Commerce Fusion Site: xoVain

Kate Lewis on the shoppable, point-of-view publishing model.
A love for all things beauty and glamour will be explored through Say Media's newly launched online property, the appropriately titled xoVain.com. This new sister site of Jane Pratt's xoJane.com will deliver a unique business model to readers through a blend of content and commerce as a way to give readers—and advertisers—an expanded offering.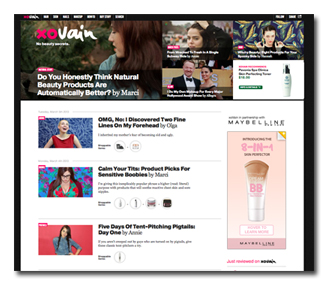 See Also: Jane Pratt Named Editor/Creative Director, Style, With Say Media
The site will have an emphasis on beauty content and xoVain will feature tutorials, tips and a view of life from its editors with a first-person sense of storytelling. Product reviews will play a key content role, but the site is also designed so that readers can easily browse and buy directly from stories and select online retailers.
Products can be purchased individually or as part of the complete look recommended in each post. Every item will also have its own product detail page, with editorial and community reviews, where readers can click through to the retailer to buy instantly.
Here, FOLIO: sits down with Kate Lewis (pictured below), senior vice president and editorial director, who oversees Say Media's portfolio of digital media brands. Lewis walks us through the new launch—from content to commerce—and outlines what we can expect going forward.
FOLIO: Why launch this new site?
Kate Lewis: It came from founder and editor-in-chief of xoJane.com, Jane Pratt. Readers were reacting to beauty posts on the xoJane site—there were tons of comments and enthusiasm—because we were talking about beauty in a different way. It's the story of real women, living their lives and sharing their experimentation and rituals.
We could see there was a big audience there, but there's also a big advertising audience market there, too, and we wondered about making it a unique site in and of itself. That was sort of the basis for xoVain, and we started talking about this in June of last year.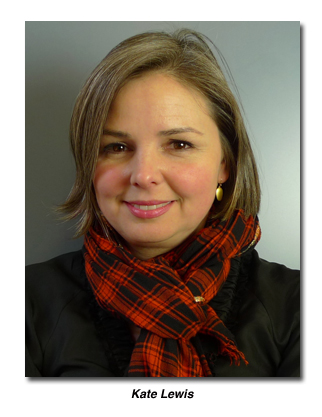 FOLIO: How does the new site help to support Say Media's business model overall?
Lewis: Our whole reason for being is to create what we call point-of-view publishing, which is a unique, special and personal voice in the digital space. That is what appealed to us on this unique take on beauty—it's a number of women of all different ages and walks of life talking about what role beauty plays in their life everyday. It's that personal, intimate, experiential thing.
We are a growing company and we have a thirst to launch new brands and to partner with new brands, which is why it made a lot of sense to expand in this area. We wanted to make a site that would be a fun place for advertisers to be and the first company that signed on was Maybelline because this idea really resonated with them.
Beauty is a big category on the Web and we felt that what was cool about the way they were doing it on xoJane was that it was different from a lot of the other sites out there. Frankly, I think it's different from every site out there. It's the notion of many voices, many experiences—there's room for everyone on Vain.
FOLIO: Can you talk about the ecommerce aspect?
Lewis: There was the opportunity to play with e-commerce so there could be a shopping experience as well for our readers. You can buy the products on Vain, which was an exciting new challenge for us. We think of ecommerce as a service to the reader, though we're still a content company. We felt like if we were talking about products, we needed to make them shoppable.
FOLIO: How will xoVain compete for audience share and advertising dollars?
Lewis: What we offer is a sense of community and a place to hear from your peers and women who have a take on beauty that is unique. The site isn't cluttered with expert knowledge; it's cluttered with the reality of being a person. We've seen that it's something that resonates. People are getting into the conversation in the comments section and that's how we grow it—having women talking about it on the site and in the social space.
When it comes to advertisers, we offer premium ad units in the form of our ad frames and also the opportunity to partner with editors on content with this site, which is something special we do here at Say Media. We want to be a strong voice in the beauty marketplace online because there are a lot of beauty sites out there.
The primary goal is to have women feel like they've found a home with us, so that's what our short-term planning will be focused on. If the ecommerce is a big deal for us we may try and work on that more, but for us the key thing is creating a conversation with the user and making sure they understand we want to cater to them. We want to help them experience beauty in a way that is productive and exciting because beauty is about fun.
Stay updated on the latest FOLIO: news, follow us on Facebook & Twitter!
Meet the Author
---