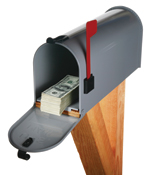 EDITOR'S NOTE: Sign up for FOLIO:'s free Webinar on postal strategies by clicking here.
It's getting pretty rough out there for magazine publishers. First came a hefty postal hike, then paper prices started to skyrocket, truckers are threatening to strike, there's a do-not-mail movement afoot and a first quarter report shows that there's a significant decline in advertising revenue across the industry. Much of this is out of our hands. But there are some things publishers can do to mitigate price hikes in the distribution and postage leg of the process—in some cases, significant enough to offset last year's 11.4 percent rate increase.
We're talking about co-mailing, of course. It's still the best way for a publisher to see significant savings in an area that has grown to be the top manufacturing expense. These days, with the size of our media business, the United States Postal Service is your main business partner, or at least as important as your top partner, says Tom Martin, vice president of manufacturing for Cygnus Business Media. And if you take advantage of co-mail opportunities at your printer or through a third-party mailer, you could save between 10 and 15 percent in postal costs. In dollar amounts, some publishers are saving about $300,000 a year on their postage bills.
Publishers have had every incentive to look for co-mailing options over the past 12 months as the new shape-based postal rate structure was put into place. Last May (July for periodicals), after a most contentious rate case, the Governors of the USPS introduced the new system that applied specific rates to the shape of mail (pieces and pounds, sacks, bundles and pallets) and offered discounts based on the type of entry facility. The move was a large step toward getting the periodicals class to carry its own weight.
The USPS is still struggling with overbearing costs and lingering inefficiencies. Making matters worse, mail volume continues to drop. For the first quarter of fiscal 2008, mail volume was down 3 percent, or 1.7 billion pieces, according to the Postal Service Board of Governors. Though revenue was higher year-over-year, it is still $500 million less than expected. The new rate structure prohibits the postal service from increasing prices above the consumer price index (CPI), so the average postal rate increase to go into effect later this month should hover around the 3 percent area.
"If the days of increasing mail volumes are over, the USPS will have to keep its cost increases below the CPI," says David Straus, a partner with law firm Thompson Coburn LLP and the postal counsel for American Business Media. "When 80 percent of your costs are labor-related and when Congress seems to interfere whenever USPS wants to eliminate redundancy in its physical plants, it will be extremely difficult to live within the price cap without reducing service. And service reductions could accelerate volume loss."
There's some concern that the USPS won't be able to survive long-term within the CPI-based price cap established by the new law because its added pricing and service flexibility will not be able to offset declining volume, Straus adds.
While publishers welcome the stability and predictability of knowing how much postal rates will rise each year, postal costs are now about one-third, more or less, of a publisher's operating revenue. That's quite a large chunk, considering that postage costs for a subscription-based magazine averaged about half that 20 years ago. But the smaller publishers and many b-to-b publishers believe that the new rate structure favors the big publishers in some cases, to the detriment of the smaller guys.
In many ways, the new rate structure and the USPS' move to standardize processes and mailings is a bit of a mixed-bag for publishers. "Technically, periodicals benefit from efficiencies in pooling, sorting and freighting; however, what they may have to give up in exchange is a degree of flexibility in schedule, design or other specifications for what is not necessarily a huge savings," says Dedra Smith, president of Printmark West, a magazine consultancy. "Depending on the compromise, this can have a direct impact on the core business of the publication. For instance, a publication might very well see a savings of 4 percent net to co-mail in a mixed-class pool, but will then sacrifice an advantage they might have had of reaching their readers ahead of a competitor. The issues can be complex and vary for each magazine."
Publishers are still in a period of transition. The industry is still wrapping its arms around the complex new periodical rate structure, which had no fewer than 55 line items. Every publisher should be looking for ways to take advantage of the discounts of the system, which vary based upon what type of container is used, where it's entered in the mail stream, and the mail piece's ultimate destination. The industry is moving away from sacks, which are time-consuming and expensive to handle, toward the Flats Sequencing System and Intelligent Bar Codes, both of which are expected to go live around May 2009.
"The new structure for Periodicals has been in place for less than a year and it obviously involved significant changes for our customers," says Dave Partenheimer, Postal Service spokesperson. He adds that customers have adapted well. "We are encouraged that after a few months of adjusting to the new structure, customers have increased the use of co-palletization and co-mailing options since November to reduce their mailing costs." Partenheimer notes that the industry still needs time to sort through the new structure and respond to it. "So, we are keeping the price relationships relatively stable within periodicals this May when prices change," he says.
Co-Mail is King
For the time being, co-mailing is still the best way to cut costs. Basically, co-mailing is a process where different titles are selectively bound and mailed together. Here's how it works: a co-mailer, usually a printer, presorts lists of publications (up to 30) to form the most efficient packages and bundles, which creates one mail stream. Then the co-mail pools can be bundled with other magazines that will be delivered by the same mail carrier. Next, the bundles get placed on pallets that can be entered deeper into the mail stream [See Magazine Mailing Trends White Paper at www.foliomag.com].
Co-mailing enables smaller publishers who don't have the volume on their own to create carrier-route packages to take advantage of the discounts being offered by the USPS. The process can save publishers time and money, and ensures that a magazine arrives to a reader's door in better condition than loose mail in a sack.
The process is not new, in fact it's been around for more than 20 years. But faced with some harsh financial realities, co-mailing should be top of mind for every publisher.
Co-mailing saves Cygnus Business Media north of $350,000 a year, Martin says. The publisher has more than 60 titles with a total circulation of about 1.4 million per month with print runs ranging between 6,000 and 105,000. The publisher saw an increase of about 13 percent starting with the August issues of last year, Martin says. Now Cygnus' postage costs account for about 40 percent of its operating cost, with an annual cost in the neighborhood of $9 million, Martin says.
"Any operation cost in b-to-b business is a tough increase to take," Martin says. "Today, with the way the markets are and competition, it's very difficult to pass on the true percentage of rate increases across the board."
Time Inc., a major catalyst in the rate structural change, saw an overall increase in postage of about 10.4 percent, slightly less than the average periodicals rate increase of 11.4 percent. Time uses selective binding and saw an increase around 11 percent. Business 2.0, which was not co-mailing when the increases kicked in, faced a 15 percent rise in postal costs, says Jim O'Brien, vice president of distribution and postal affairs for Time Inc.
Another Time title, Health, should have a carrier route percentage of 15 percent, based upon its current makeup using conventional binding. But by selectively binding the magazine, Health's carrier route percentage jumps to 50 percent, O'Brien says. Including the magazine in a co-mail pool pushes its carrier route percentage to 90 percent. That translates into a savings of about $30,000 per issue compared to conventional binding, and savings of $15,000 versus selective binding. Time Inc.'s postage and trucking expenses have risen by about $38 million over the past five years, O'Brien says.
The U.S.-based branch of United Business Media saw postal costs rise anywhere from 11 percent to 17 percent, says Marie Myers, senior vice president of manufacturing. The publisher offsets some of its costs by co-mailing, co-palletizing and co-binding its titles. For years, the publisher has been co-binding its weekly publication InformationWeek, with US News & World Report. Recently, it's been co-binding CRN with eWeek, a competitive publication. "It's working out great! Nothing but pure savings for us," Myers says. "The plants don't charge us extra. It's a win-win; their equipment is utilized more and they're more productive and we capture quite a bit of savings."
Myers estimates that savings could be as much as $4,000 a week for its weekly titles. While that's not enough to completely offset the rate increase, it does help, she says. But, she acknowledges that not every weekly magazine can co-mail. There are some restrictions—most publishers can't co-mail polybagged issues and book sizes have to be within a set amount of pages to enter the weekly co-mail pools.
Because co-mail pools involve about 30 different magazines, each individual title can impact the entire pool. In fact, if a publisher agrees to be part of a co-mail pool but fails to deliver the materials and data on schedule, it can jeopardize the entire pool. In such cases there are typically penalty clauses built into co-mail contracts that protect printers from incurring extra costs to re-run a job.
Weekly Woes
The postal service gives weeklies preferential treatment, says Ned Kulka, marketing director for Shepherdsville, Kentucky-based printer Publishers Press Inc., but if they enter a co-mail program, they could lose their time-sensitive advantage.
And that's one factor which keeps some weeklies from reaping the savings: there's often a delay in the delivery process, and for a time-sensitive news magazine, that can be a deal breaker. In fact, it's debatable whether co-mailing actually saves time for publishers. In some cases, it shaves a couple of days off the schedule and in others it adds days to the whole process. "We don't save any time by co-mailing," says Keith Hammerbeck, corporate director of media operations for Advanstar Communications Inc. "What it really does is, instead of having a bell curve—some books in two days, some in nine days, and some in 15 days—co-mail really shortens the bell curve, same as what you get with direct entry. Most subscribers are getting it in five or six days."
Waiting on ads also incurs penalties. "Publishers that are predominantly subscriber-based are adapting to co-mailing but I hear complaints that titles that traditionally have valued late advertising opportunities over keeping a strict schedule are having a tough time with the penalties they can incur for not making their scheduled mail pool," Smith says.
For political weekly The Nation, co-mailing delayed its delivery by 10 days, which is insurmountable for a time-sensitive publication. The independent publisher was hit with a rate hike near 20 percent, so it tried co-mailing last August with its printer. After trying four issues of co-mailing, the publisher decided the delay hurt its time-sensitive editorial content. Without a way to significantly offset postal costs, the publisher has to swallow a staggering $500,000 hike in postal costs a year now, says Teresa Stack, president of The Nation.
Stack wants to know how a small, independent, time-sensitive magazine can mitigate the postal increase. "I really think it's ridiculous for people to say, 'just change your mailing behavior,'" Stack says. "It's so disingenuous to say mailers can just co-mail or co-bind. It's not really an option with our printer and our tests and other printers and mailers for a time-sensitive publication to co-mail effectively." Another hurdle is the magazine's long-term printing contract, Stack says. "We haven't met anyone who says they can get us the same delivery with co-mail."
The Nation also looked at printing on the West Coast, which proved not to be an option, Stack says. "Just starting the presses are so cost prohibitive, you lose postal savings for entering the mailing stream." As a last resort, the magazine is pulling the least dense circulation that it has in more sparsely populated areas and putting them into a co-mail pool.
As for other ways to offset the postal increases, including paper grade changes, trim-size cuts and circulation changes, at this point, "everything is up for grabs," Stack says. "We have to look at everything. To find $500,000 for a small company is tough. These political magazines operate on tight economic margins as it is." To offset costs last year, the magazine sought donations from its subscribers and was able to offset much of the postal increase. But, that Hail Mary pass is not something that a publisher can do in perpetuity, Stack says.
Stack has reached out to other political publications who find themselves in the same boat—some with completely different ideologies—and a group of some two dozen political magazines have formed a coalition, MPPACE (which stands for Magazines of Politics, Policy and Culture). "We started calling around saying, 'How is this affecting you?'" Stack says. "At least two of the magazines had to cut their frequencies in half,"
Joe Schick, director of postal affairs for printer Quad/Graphics, says he has seen clients, both periodicals and catalogs, reducing their circulation or changing their frequency to publish fewer issues a year. "Unfortunately, we expect that trend to continue for some of our clients," he says.
The rate case and structural change last year probably impacted printers the most, because they are the ones who have to adapt to the new system and new technologies while trying to meet their customers' needs. "There's enormous pressure on the printers to adapt," Stack says. She sees printers juggling the needs of their smaller clients while still trying to attract the business of the big players. "They feel they need to play Switzerland," she says.
Printers Respond
Co-mailing really does come down to the printer. The big production houses, such as R.R. Donnelley, Quad/Graphics, Quebecor World and others like Publishers Press and Fry Communications, offer co-mailing and co-palletization. But, co-mailing is an expensive endeavor for any provider and it's just not a feasible option at the moment for some smaller printers. However, many of the co-mail providers are taking mail from other printers to put into their co-mail pools.
Again, it all comes down to volume. "Volume keeps the smaller guys from doing it. You have to have enough volume to be able to co-mail or co-palletize or you're looking at things sitting on the floor for weeks," Kulka says. "If you don't have the volume to where you can keep the co-mailer running, then it's not feasible. And it's not necessarily the machinery that's the difficult part, it's having enough magazines—at least two of the magazines had to cut their frequencies in half. That's tough."
Distribution capabilities and postal efficiencies play a huge part in printing contracts these days, Smith says. "Five years ago, I could send bids to six printers and wait to do a postal analysis until the field had been narrowed to three or so, because postal variances weren't likely to skew the final results that much," Smith says. "Now, the postal analysis has to be done upfront with all the bidders because postal variables can really make a difference in the overall bid."
Printers also offer other ways to take advantage of cost-savings, including co-palletization, co-binding and drop-shipping. The cost-saving results of these other methods seem to vary more widely between publishers and books. While UBM enjoys large savings by co-binding its weekly titles, Advanstar only saves about 1 percent of its postal costs with co-binding, Hammerbeck says.
"Cost savings is even more important today than in the past to keep the same profit margins," Hammerbeck says. Advanstar saves between 10 to 15 percent by co-mailing.
USPS Drops Drop-Ship Incentives
Most publishers are looking for ways to drop-ship their books further into the mail stream. But some say the new rate case took away some drop-ship incentives for certain publications. "The rate increases did have a somewhat negative impact on periodical drop-shipping in that the incentives were reduced for some publications," Quad/Graphics' Schick says. "That resulted in less discounts and some movement of mail from the Sectional Center Facility level to the Area Distribution Center level and in some cases, less mail qualifying for drop-ship discounts and therefore, not drop-shipping at all." Despite the reduction in postal incentives and the challenges with fuel costs, Quad has expanded its drop-ship network, Schick says.
Rita Cohen, senior vice president of legislative and regulatory policy for Magazine Publishers of America, echoes Schick's comments. "The way the PRC did this, there's a little bit of a pullback in some of the incentive to do some drop-shipping," she says. "In the future, that would be enhanced to some extent. One of the work-sharing opportunities is drop-shipping and using private transportation. That's a growth rate in the current rate which has not been enhanced. In the future, it might be again."
When asked if publishers could expect to see more incentives for drop-shipping and co-mailing in the future, Partenheimer said, "Customers and the Postal Service share the goal of reducing total costs. The new price structure is intended to do just that. As we move forward, we will use that structure to develop prices that will result in lower costs."
Let's face it, last year's huge rate increase impacts everything that publishers mail and some publishers have had to make changes to other mailings beside their publications. "The 15 to 30 percent increase in rates for standard mail flats prompted Meredith to transition many of its magazine circulation promotions to letter-sized pieces which enjoy significant rate advantages," says Randy Stumbo, senior director of distribution and postal affairs for Des Moines, Iowa-based publisher Meredith Corp.
The Tea House Times, a small niche publication based in Sparta, New Jersey, redesigned its mail pieces for its marketing package. For a while, the publication used a 9×12 envelope along with several businesses together with catalogs and brochures. "Now, we have considered that a normal envelope will save everyone money and thus regular tri-fold flyers have become a more cost-effective means of initial mail marketing with catalogs mailed only to those specifically requesting them," says editor and publisher Gail Gastelu. The Tea House Times also had to raise subscription rates by $1 per person to offset postal costs when the rates rose.
"Because the shape-based rate structure affects all classes of mail, publishers are looking to reduce all mailing costs, including tearsheets, proofs, invoices, ratecards and all other ancillary mail," Smith says. Many publishers have simply quit mailing foreign copies, choosing instead to offer digital editions.
Postal Issues for 2009
The next generation of automation for the USPS will be the implementation of the Flats Sequencing System and the Intelligent Mail Barcode. Later this summer, the USPS will begin rolling out the first of 100 new FSS machines to 33 postal facilities. The new system will sort mail by machine instead of the postal carrier doing it by hand.
The Postal Service sees the FSS as accomplishing three overarching objectives: bypassing bundle distribution on the Automated Package Processing System and the Small Package and Bundle Sorter; automating flat-mail preparation by eliminating the manual process of removing straps and polywrap from bundles; and using technology to delivery point sequence single pieces, eliminating the need for a letter carrier to manually sort the flats in the order they deliver their route, USPS spokesperson Partenheimer says.
For large quantities of flats for FSS zones, the USPS is exploring the concept of "perfect" pallet preparation. The postal service describes an automation-ready or "perfect" pallet as a pallet of uniform size, non-compensated bundles secured by one or two straps. The bundle height would be relatively uniform and multiple bundles would add up to about 12 inches to fit easily into an Automation Compatible Tray (ACT), which is used to feed flats into the FSS.
Meanwhile, the USPS developed the Intelligent Mail Barcode to enable it to encode routing and tracking information on mail. The Postnet barcode only contains a routing code, but the new Intelligent Mail barcode includes fields that can provide much more information, including the identity of the mailer and the class of mail, the ability to encode special services, and it will assign a unique number to each piece of mail. The Postnet Barcode would remain eligible for automation prices until May 2010.
"The shape-based structure is preparing you for when they plan to ship everything to a flat sequence sorter. They want to standardize the size and weights of magazines and even labels that will greatly affect a magazine's cover," says Kulka, who worries that these moves will impede differentiation for magazines.
But others are optimistic. "The flats sequencing machines may level the playing field between big mailers such as Time Warner and other smaller publications," Smith says. But it's too soon to tell what impact the new technologies will have on co-mailing, drop-shipping and other delivery solutions. Smith adds, "It will be interesting to look back to see whether the investments by the printers in co-mail facilities and the compromises by the publishers to comply with the new efficiencies were worth it."
SIDEBAR: Postal Point-Counterpoint