Sarah Palin: 'I Absorb News Via Many Sources'

Tells Hannity (not Couric) she reads at least one magazine, two newspapers.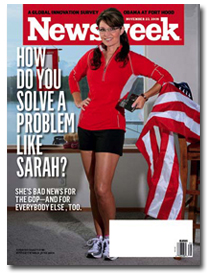 It's been more than a year since former Alaska governor and ex-Republican vice presidential candidate Sarah Palin did her first in a series of on-camera interviews with CBS' Katie Couric. In case you've somehow forgotten, it was during that interview in October 2008 that Couric asked Palin what newspapers and magazines she read to inform her worldview. A visibly annoyed Palin said she reads "most of them," "all of 'em," "any of 'em," but wouldn't (or couldn't) name even one specific news source.
Now, after so many months, America finally got an answer to the question Wednesday night when Palin told Fox News' Sean Hannity: "I read, I read Newsmax, and the Frontiersman, and the Wall Street Journal, and everything online. I absorb the news via many, many sources." (See a clip of the Hannity interview below.)
The Frontiersman is the local paper serving Wasilla, Alaska. Newsmax, of course, is a politically conservative print magazine and Web site.
Palin also talked about the apparent controversy concerning the recent Newsweek cover [pictured above] featuring Palin and the cover line: "How Do You Solve a Problem Like Sarah?" "It was just—just another little shot," she told Hannity. "I think that the American people, they're tiring of the tabloidization of some people, like me.  And they want to get to the issues."
Palin recommended we all steer clear of tabloidization in general, and the "haters" out there in media-dom, in order to form a better judgment of the real Sarah Palin. "They need to start by reading my book and not believing the tabloidization or the mainstream media that wants to portray me as something that I am not."
Ah, that's right, the book. That's why she's making the media circuit now, after all.
Meet the Author
---