Sandy's Big Impact on Magazines and the Media

Postponments, creative coverage highlight the media's experience with Sandy.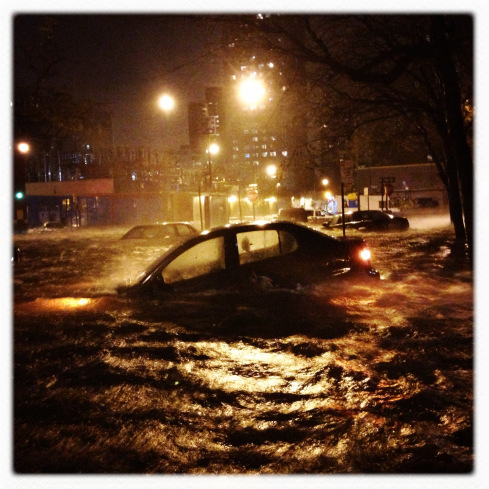 Instead of delivering his keynote address Monday afternoon at MediaNext, Condé Nast president Bob Sauerberg announced his offices would be closed as a result of Hurricane Sandy, which bore down on the East Coast over the weekend and into Tuesday.
FOLIO:'s MediaNext, postponed from Oct. 29-31 to Jan. 8-10, and Condé Nast were two of many of media outlets affected by the storm.
• The sixth annual Designer Visions showcase, sponsored by Hearst titles Elle Décor, Veranda and House Beautiful, was pushed from Oct. 30 to Nov. 12, while Hearst president Michael Clinton cancelled a charity dinner scheduled also scheduled for Tuesday.
• Several news organizations, including the New York Times and Wall Street Journal, took down paywalls on their websites and apps during the hurricane. Both newspapers also told nonessential personnel to stay home during the storm. The paywall move was not unprecedented for the NYT, which also removed the barrier as Hurricane Irene threatened the eastern U.S. last August.
• Seven New Jersey newspapers, including the Star-Ledger, shut down production of their Tuesday editions in the wake of Sandy. "We are still covering this historic storm with all of our resources," said Star-Ledger publisher Richard Vezza on Monday, but, he added, "there's just no way to justify putting more people on the road to try to print and deliver a paper when the worst is headed our way right in the middle of our production window." Tuesday's papers will be delivered along with the current edition on Wednesday.
• Major New York-based websites Huffington Post and Gawker experienced technical difficulties after Sandy knocked out power at their headquarters Monday night. Along with millions of others, their editorial teams took to social media platforms like Twitter, Facebook and Tumblr to keep coverage rolling.
• Time got out ahead of social media blitz, commissioning five photographers to cover the hurricane via Instagram.
• A spokesman for The Weather Channel called Sandy "our mini Super Bowl," after record ratings soared over 500 percent to 39 million viewers and website page visits surpassed 300 million. Attention came from advertisers as well as audience as State Farm, The Travelers, Procter & Gamble and Duracell all partnered with TWC in specialized storm coverage. Home improvement retailers and generator providers bought airtime on the channel months ago in anticipation of similar weather disasters.
• The "lock-up" period for Facebook employee shareholders was scheduled to end on Monday, letting many of them become millionaires over night. Instead, they'll have to wait until Wednesday when trading on the New York Stock Exchange resumes.
The wait could have been much longer if CNN and The Weather Channel had been right. Each incorrectly reported up to three feet of flooding on the floor of the Exchange. Both networks eventually admitted the mistake. 
To stay updated on the latest FOLIO: news, become a Facebook fan and follow us on Twitter!
Meet the Author
---